Peanut butter mystery cookies
Gluten and dairy-free moist and chewy peanut butter mystery cookies – no one will ever guess what the secret ingredient is!
If you love peanut butter cookies, you're in the right place. Just check out here, here and here for ideas. And you can even make some yummy peanut butter cookies with no refined sugar in there – check out here, here and here!
But these peanut butter cookies have a mystery ingredient – you'll never guess the ingredient, but these cookies are soft, moist and chewy, even 4 days after being made.
No, it's not applesauce. No, it's not banana. No, it's not beef (!). It's ketchup (or tomato sauce for my Australian readers). I actually found this recipe on the back of a ketchup bottle while on vacation in Canada. I read it out to my family and they all turned up their noses, saying they would NEVER eat a peanut butter and ketchup cookie. But I made a batch anyway. And they ate it (before I told them what was in it … and even after I told them as well!).
I took the cookies to a party where there were a lot of kids and tried to get them to guess the mystery ingredient as well. Many kids took multiple cookies to try to figure it out. And so did many adults that were there as well. No one guessed it, but all were really surprised.
If you want to make your own ketchup – try this recipe here. There is no real tomato flavour in them, but gee these peanut butter mystery cookies are yummy!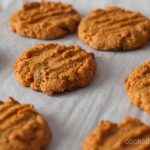 Peanut butter mystery cookies
(Gluten-free, dairy-free)
Ingredients
1 1/2

cups

gluten-free flour blend

1/2

tsp

baking soda

3/4

cup

chunky or creamy peanut butter

1/2

cup

softened butter

substitute dairy free if needed

1/2

cup

granulated sugar

1/2

cup

firmly packed brown sugar

1/4

cup

tomato ketchup

1

egg
Instructions
Preheat oven to 180C / 375F.

Sift together flour and baking soda and set aside.

Cream together peanut butter, butter, sugar and brown sugar until light and fluffy.

Add ketchup and egg and beat until well mixed.

Thoroughly blend flour mixture into peanut butter mixture.

Drop by tablespoonfuls onto baking sheets lined with parchment paper and slightly press down on the cookies.

Bake 8-10 minutes or until golden brown.

Cool on a wire rack - they will be quite soft so make sure they are crisp enough prior to moving from the baking tray.
Recipe Notes
For the gluten-free flour blend use 1 cup rice flour, 5 tbs potato starch, 3 tbs tapioca starch and 3/4 tsp xanthan gum.