Chickpea peanut butter chocolate chip cookies
This gluten and dairy free chickpea peanut butter cookie recipe is a completely different texture to most chocolate chip cookies – but oh so yummy!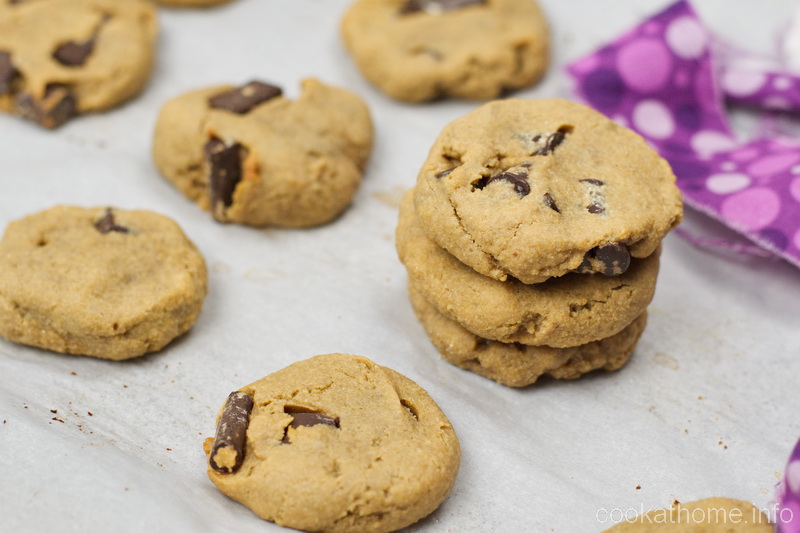 These chickpea peanut butter cookies have a very different texture to most other chocolate chip cookies. I love this recipe because it doesn't have any refined sugar – all the sweetness comes from the honey and chocolate – you can use the high % cocoa dark chocolate to make it even better for you. And these days it's quite easy to find dairy-free chocolate in the grocery stores, so I'm happy! The fiber content is quite good too – just be aware of some of the gassy side-effects some people can experience from chickpeas! The dough from these cookies is also amazing (because there's no eggs used, so there's not the concern about eating raw eggs!)
The original recipe comes from Texanerin (see here for the full details), but I've seen it shown on so many other websites, so I didn't want to let you guys miss out from it not being on mine!
Alternatives:
I tried this recipe with some chickpea flour instead of the actual chickpeas. I had to add about 1 tbs of honey to get the texture ok, but still worked quite well.
Feel free to try making this a chocolate chickpea chocolate chip cookie recipe – check here for how I did it!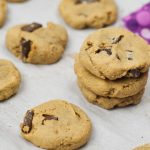 Chickpea peanut butter chocolate chip cookies
(Gluten-free, dairy-free, no refined sugar)
Ingredients
200-250

g

cooked chickpeas

2

tsp

vanilla extract

165

g

natural peanut butter

creamy or chunky

80

g

honey

1

tsp

baking powder

90

g

chocolate chips

dairy-free if needed
Instructions
Preheat oven to 180°C / 350F

Combine all the ingredients, except for the chocolate chips, in a food processor and process until very smooth. Make sure to scrape the sides and the top to get the little chunks of chickpeas and process again until they're combined.

Put in the chocolate chips and pulse it once or twice. The mixture will be very thick and sticky.

With wet hands, or a tbs cookie dough scoop, form into 1 1/2" balls. Place onto a piece of parchment paper. If you want them to look more like normal cookies, press down slightly on the balls. They don't do much rising.

Bake for about 10 minutes.