Cazuela de vacuno
Monday, November 12th, 2018 at 8:00 pm
This cazuela de vacuno recipe is slightly different to normal – using kombucha as the main liquid ingredient and cooked in a slow cooker!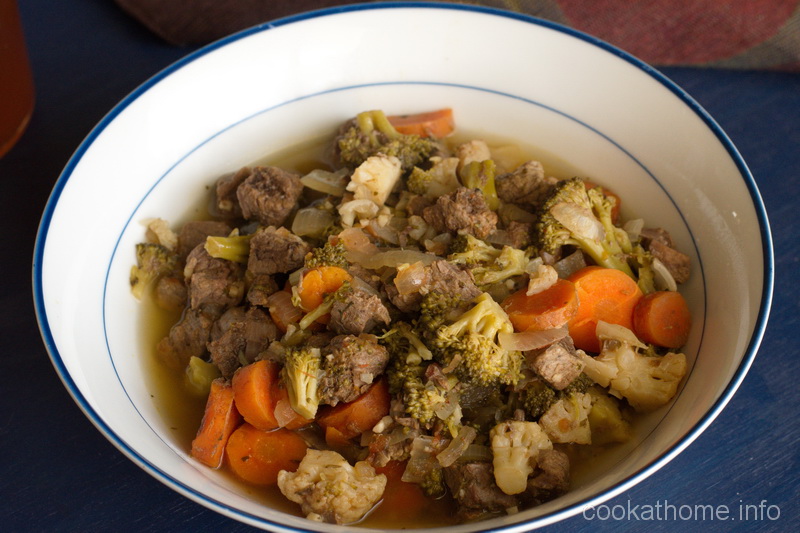 Here's an interesting combination for you all – the Sarah-take on a classic Peruvian dish, adding in our favorite probiotic drink of kombucha as one of the ingredients.  Intrigued?  Read on!
So this recipe was adapted from another of my friend Chef Freyka's recipes, after I took a cooking class with her all about cooking with kombucha.  Now, you may remember that we make our own kombucha at home, and Grant and I drink it every day to keep my digestive system working as well as it possibly could be.  So I was so excited to take this cooking class, where I learnt a whole pile of new recipes, using kombucha as a sauce, or as a marinade, even in a cake …!
And for those of you who have been following me for a while, you will remember that our family loves Peruvian food – with such classics as aji de gallina, lomo saltado and arroz con leche already on this website for you to make at home with us!
So this recipe combines both of these interests in one very tasty dish.  Originally it was designed to be seco de cordero (or lamb stew), but I changed it a little to call it cazuela de vacuno (beef stew).  Now, normally the cazuela de vacuno has big chunks of beef and vegetables in a thin broth, but even when my family were living in Chile, we always chopped the meat and veggies up into more bite-sized morsels.  So again, I'm changing a classic dish into one my family likes.  Feel free to keep the meat and veggies as bigger chunks if you wish, or you can call it a nice Peruvian beef stew if you're more pedantic.
Whatever you call it though, I hope you give it a try because the flavors are unlike any Western stew!
Cazuela de vacuno (Peruvian beef stew)
(Paleo, Whole30, gluten-free, dairy-free)
Total Time
4
hours
15
minutes
Ingredients
1

large

onion

sliced

4

cloves

garlic

finely diced

3

carrots

sliced

250

g

broccoli

chopped

250

g

cauliflower

chopped

2

lb

stew beef

cubed

2

tbs

ground cumin

2

tsp

aji amarillo paste

(yellow pepper paste)

2

tbs

red salsa

2

tbs

chimichurri

2

cups

kombucha
Instructions
Place the onion, garlic, carrots, broccoli and cauliflower in the bottom of a slow cooker.

Add the beef, cumin, aji amarillo, salsa and chimichurri and stir until well mixed.

Pour in the kombucha and stir again.

Slow cook for 4 hours, or until beef is tender to the fork.

Serve immediately with rice, salad, or other side dishes.
Recipe Notes
Adapted from Chef Freyka Nunez del Prado, Harmons Cooking School
Tagged with: kombucha • main meal • paleo • peruvian food • Whole30
Filed under: Recipes • The Blog!
Like this post? Subscribe to my RSS feed and get loads more!