Peanut butter choc chip cookies
These peanut butter choc chip cookies are a yummy combination of peanut butter and chocolate chips in an irresistible cookie form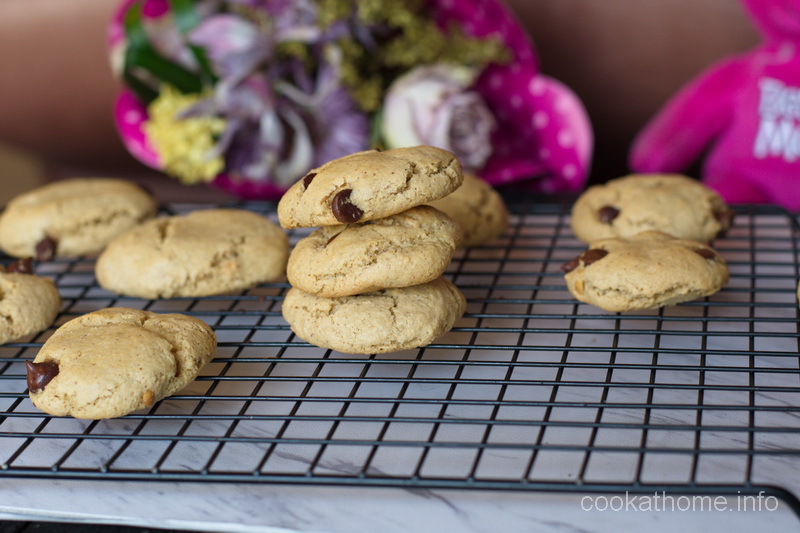 I have this thing about peanut butter – have you noticed?  And now that I'm not able to have dairy, my brain is busy thinking of alternatives.  One of my friends was planning on making chocolate chip cookies one weekend and texted me what an alternative to butter would be.  Apparently she had forgotten to take it out of the fridge early enough (which I've done many times).  So I thought to myself, what would happen if I took my favorite chocolate chip cookie recipe (here) and substituted the butter with peanut butter.
So I tried it.  And going on past experience, I added an extra egg to avoid the crumbly texture I've seen other times I've used peanut butter instead of butter.  And these are awesome.  There's just no other words to explain them.  They were actually nice and chewy, and the chocolate chunks I used (thanks to Enjoy Life) just lifted them to a new high.  Bringing them to work, and I was given feedback of 'perfection'!
Try them … trust me!
Peanut butter choc chip cookies
(Gluten-free, dairy-free)
Ingredients
2 1/4

cups

gluten-free all-purpose flour

1

tsp

baking soda

1

cup

crunchy peanut butter

3/4

cup

granulated sugar

3/4

cup

firmly packed brown sugar

1

tsp

vanilla extract

1/2

tsp

water

3

eggs

1

cup

chocolate chunks
Instructions
Preheat oven to 350F. Prepare baking trays with parchment paper

Sift together flour and baking soda and set aside.

Combine peanut butter, both types of sugar, vanilla and water. Beat until creamy.

Beat in the eggs and mix well.

Add in the flour mixture and mix well.

Stir in chocolate chips.

Drop by well-rounded teaspoonfuls onto baking tray. Bake for 10-12 minutes and allow to cool.
Recipe Notes
Any type of chocolate chips or chunks works well in this recipe. For dairy-free, I recommend either King Arthur or Enjoy Life brands.