Homemade ketchup
A simple and tasty ketchup that is made only of Whole30 compliant ingredients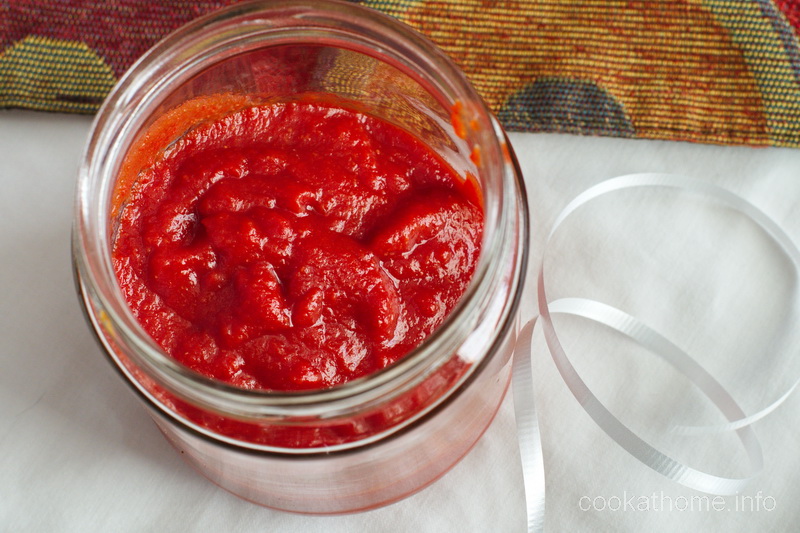 I'm kind of in a sauces and seasonings mood these days – removing a lot of the grains/legumes/sugar from my food has meant I need to go to other sources to add flavor and taste to my food. I've never been much of a sauces or dressings person – I usually like my food just as it is – but when I find something that I can make healthy and yummy (like the dairy-free tzatziki) I use it a lot.
Have you ever looked at the ingredients in most of the commercial ketchups (tomato sauce for you Aussies)? Most of them that I find here in the US have sugar as one of the first ingredients. And high fructose corn syrup. Even if you get one that's organic, it still is loaded with sugar and other stuff. So, while on my second Whole30, I found this recipe in the Whole30 cookbook and it worked so well in so many areas, I just had to share it with you. I adapted it (as always) to what I had in the fridge and the pantry, but I like my adaptation!
Give it a go and let me know what you think!
Homemade ketchup
(Paleo, Whole30, gluten-free, dairy-free)
Ingredients
1/2

cup

tomato paste

1/4

cup

apple juice

check to make sure it has no sugar

1/4

cup

apple cider vinegar

1/2

tsp

garlic powder

1/2

tsp

salt
Instructions
Heat the tomato paste, apple cider vinegar and apple juice in a small saucepan over medium heat.

Stir and allow to come to a simmer but not boil.

Add garlic powder and salt and cook, stirring frequently to prevent scorching.

Continue cooking until the ketchup thickens enough to evenly coat the back of a spoon.

Remove from heat and allow to cool.
Recipe Notes
Adapted from The Whole30 cookbook