Strawberry bread
Monday, November 26th, 2018 at 8:00 pm
This Paleo strawberry bread is filled with juicy strawberries, sweet but without any sugar added!
Don't you just love strawberry season?  My family does, although my kids go through phases of eating a whole container of strawberries in one sitting, and then totally forgetting about the strawberries being around after I've just bought some more to make up for the fact that they've eaten a whole container in one sitting.  So I've had to get creative with using up strawberries, and this is where my strawberry basil muffins, strawberry chia pudding and berry spinach salad recipes were born.
But I wanted to have a little something sweet and a little something savory this time with the strawberries.  And I thought to myself (which is always dangerous), what happens if I add strawberries to my very simple bread recipe?  It took a few goes to get the right consistency with adding extra moisture from the strawberries and having to compensate with coconut flour, but I had this strawberry bread for breakfast and snacks quite happily while I was recipe testing.
It keeps well in the freezer, but I'd highly recommend toasting this for the full flavor experience.  Note that this strawberry bread is quite crumbly, so I'd slice it up before putting in the freezer, maybe in individual bags so you don't end up breaking the piece of bread just trying to pry them apart.
But I've loved having this strawberry bread, toasted, with some ghee.  Simple, yet satisfying.  I love it and I hope you do too!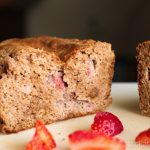 Strawberry bread
(Paleo, gluten-free, dairy-free, grain-free, no added sugar)
Ingredients
1

cup

almond butter

3

eggs

1

tsp

baking soda

1

tbs

apple cider vinegar

1

cup

strawberry puree

(cut up strawberries and blend)

1/3

cup

coconut flour

1/2

cup

strawberries

chopped
Instructions
Preheat oven to 350F and line a 8x5" loaf tray with parchment paper.

Combine the almond butter and eggs in a medium sized mixing bowl until well combined.

Add the baking soda and apple cider vinegar and mix well.

Add the strawberry puree and coconut flour and mix well.

Fold in the strawberries until well dispersed.

Transfer to loaf tray and bake for 30 minutes or until a toothpick inserted in the bread comes out clean.

Cool in pan for 10 minutes before removing and sitting on wire rack to cool completely.

Bread can be stored in a sealed container in the refrigerator or freezer for up to 7 days.
Tagged with: bread • breakfast • no added sugar • paleo • snack • strawberies
Filed under: Recipes • The Blog!
Like this post? Subscribe to my RSS feed and get loads more!