Peanut butter avocado cookies
Peanut butter avocado cookies – an unusual combination of ingredients but these peanut butter cookies are so soft and chewy
What do you do when you have avocados in the fridge, likely to go rotten at any moment? Well, you could make guacamole out of them. Or in a salad, like my simple avocado salad or salmon and avocado salad. Or make chocolate avocado frosting with them. Or make cookies out of them. Wait! What? Whoever heard of making cookies with avocados?
Welcome to my world, where my brain is constantly thinking of new ways to use everyday ingredients! And what better than to combine one of my favorite foods (avocado) with one of my other favorite foods (peanut butter) than in a cookie? Not surprisingly these are really soft and chewy cookies, and apart from the green color where the avocado hasn't been completely mashed in, you wouldn't even know there was any 'green vegetable' in them! Oh yeah, and you can make these paleo if you wish – just use almond butter instead!
Give it a go and tell me I'm not completely losing my mind!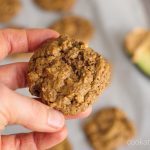 Peanut butter avocado cookies
(Gluten-free, dairy-free, no refined sugar)
Ingredients
3/4

cup

crunchy peanut butter

1/2

medium avocado

1

egg

1/2

cup

coconut sugar

1

tsp

baking soda

1

tsp

vanilla

1/4

cup

flaxseed meal
Instructions
Preheat oven to 350F and line a baking tray with parchment paper.

Place all ingredients in a medium mixing bowl and mix until well combined.

Form into tablespoon-sized balls and place on parchment paper.

Bake for 10 mins and allow to cool on tray before moving.