S'more cookies
Monday, October 29th, 2018 at 8:00 pm
Grain-free, egg, gluten and dairy-free chewy and yummy s'more cookies – perfect for any time of year!
Ah yes, the American summer.  Full of BBQ's, fire pits, camping, roasting marshmallows … and s'mores.  For years my mother would love it when she received care packages from friends and family in the US, because they would undoubtedly contain boxes of graham crackers.  (Just as a side note … Australians would call these 'grey-am' crackers, whereas we've found many Americans call them 'gram' crackers).  And then, she would get some chocolate and marshmallows.  And I remember trying to toast some marshmallows using the gas stove-top, to put in between the graham crackers with the chocolate.  And shove the whole thing in my mouth.  Ah, good times … good times.
Fast forward to now, when we are actually living in the US and there's campfires, fire-pits and other things all around.  Now, my kids don't really get into s'mores that much – because they are pretty messy – so they've invented some other combination of roasted marshmallows plunging into puddings … but that's a story for another day!  And it's expensive to buy gluten-free graham crackers.  Yes, I have made s'more cookies before, including my love of peanut butter, but these s'more cookies are so much different to that recipe, I dare you to try both and let me know which you prefer!
So these are totally grain-free, and Paleo-friendly if you choose your marshmallows wisely.  Or you could make your own (I haven't quite gotten that enthusiastic yet).  And they are even egg-free – I've started to discover uses of beef gelatin in baking so beware (you could totally substitute an egg for the gelatin if you need/want to!).  But know that there's no refined sugar in the cookies themselves but they are so chewy, with the right amount of sweetness, and they hold together so well.  Who needs the classic messiness when you can have all the flavors in a portable cookie form?
And these cookies have gotten the thumbs up from two of the pickiest eaters I know (being my husband and son!) so give them a go and let me know what you think!
S'more cookies
(Paleo, grain-free, gluten-free, dairy-free, egg-free, no refined sugar)
Ingredients
1

cup

creamy almond butter

1/2

cup

honey

1

tsp

vanilla

1

tsp

baking soda

1

tbs

beef gelatin

1/2

cup

dairy-free chocolate chips

1/2

cup

mini marshmallows
Instructions
Preheat oven to 350F and prepare a baking tray with parchment paper.

Combine the almond butter and honey until well mixed. Add the vanilla and baking soda and mix well.

Sprinkle the beef gelatin on top of the batter and mix well.

Fold in the chocolate chips and marshmallows until well dispersed.

Drop batter by tablespoonfuls onto the parchment paper and bake for 10 minutes. Allow to cool completely on the tray before attempting to move.
Recipe Notes
If you do not have sensitivities regarding eggs, feel free to use 1 egg instead of the gelatin.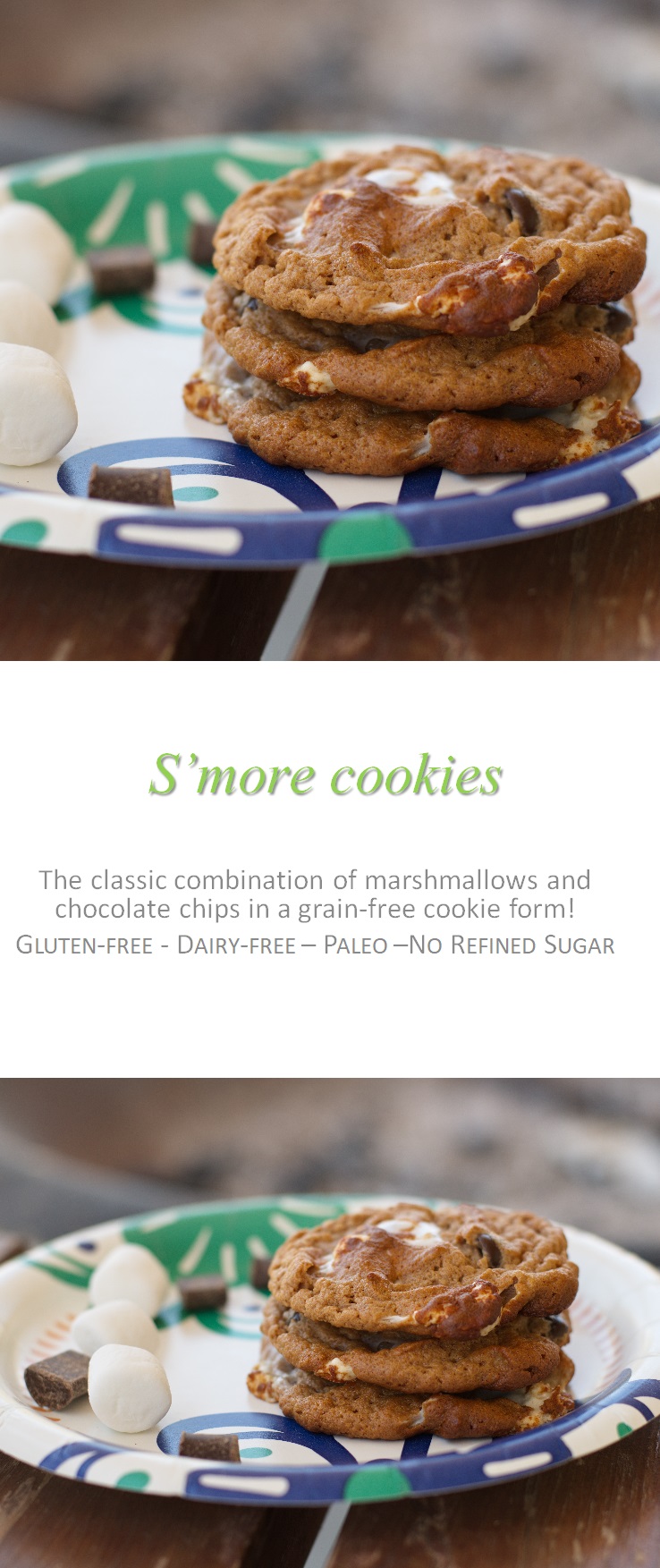 Tagged with: chocolate • cookies • no refined sugar • paleo
Filed under: Recipes • The Blog!
Like this post? Subscribe to my RSS feed and get loads more!