White chocolate berry cheesecake
A white chocolate berry cheesecake, baked that combines the amazing flavors of white chocolate and fresh berries. Add in a gluten-free crust and you have deliciousness!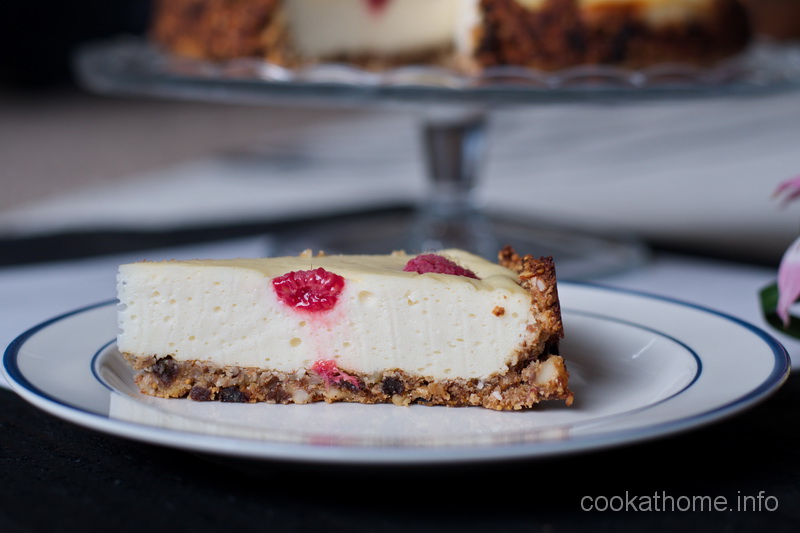 While thinking of ingredients for our rocky road slice, I mistakenly thought we needed fresh raspberries. When I walked through a local market, I saw some and immediately bought them. When I got home, I was informed we needed the jelly variety instead, but then my husband had the idea to make a baked cheesecake with the raspberries and white chocolate. And this white chocolate berry cheesecake turned out amazingly brilliant! That time, and every other time I've made it. Even with dairy-free ingredients – like dairy-free cream cheese, coconut cream and white chocolate syrup. It's amazing. Just trust me!
For the crust I used the gluten-free graham cracker crust, but two portions of it. We really love this crust and it seems to work with most pies that would normally have a biscuit base.
White chocolate berry cheesecake
(Gluten-free, dairy-free)
Total Time
1
hour
10
minutes
Ingredients
200

g

white dairy-free chocolate

or 1/3 cup white chocolate syrup

1/4

cup

coconut cream

500

g

dairy-free cream cheese

1/2

cup

sugar

3

eggs

1

tbs

tapioca starch

150

g

berries

raspberries, blueberries, strawberries, etc
Instructions
Preheat oven to 150C/325F.

Melt chocolate and cream over a gentle heat. Once melted together, cool for 5 minutes. If using white chocolate syrup, you can ignore this step and add both the syrup and cream together after the eggs and tapioca flour have been mixed in.

Mix cream cheese and sugar together until smooth.

Mix in 1 egg at a time, then add tapioca starch.

Add in melted chocolate mixture / chocolate syrup and cream and mix well.

Pour over prepared biscuit base then drop the berries into the mixture.

Cook for 55 minutes.

Cool in oven with the door ajar.