Healthy quinoa peanut butter cookies
A gluten-free and dairy-free without refined sugar quinoa peanut butter cookie that is yummy!
In case you haven't realized by now, I love peanut butter.  And I am trying to be more healthy in what I make, and therefore eat.  I've had this recipe for peanut butter cookies using quinoa for quite some time, and really enjoy it when I get the texture right (recipe here).
But you guys should know by now that I just can't seem to leave things alone and I keep experimenting.  And sometimes miracles happen.  Like this one.  I adapted the recipe and used NO refined sugar, and NO butter.  Just simple ingredients – peanut butter, honey, quinoa (obviously), changed it almond flour and baking soda.  I actually had a jar of cinnamon raisin peanut butter that I used in these cookies, but that's only useful if you live where you get buy that stuff.  If you want to experiment (who wouldn't?) add maybe a tablespoon of cinnamon and 1/2 cup of raisins into the mixture.  Or just use plain peanut butter and add chocolate chips.  Or use chunky peanut butter and cranberries or white chocolate chips or … the list is endless!
But please just try this healthy quinoa peanut butter cookie recipe, and let me know how you go!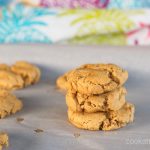 Healthy quinoa peanut butter cookies
(Gluten-free, dairy-free, no refined sugar)
Ingredients
1/4

cup

uncooked quinoa

1/2

cup

water

1/2

cup

honey

1

cup

peanut butter

1

cup

almond flour

1

tsp

baking soda
Instructions
Preheat oven to 180C / 350F.

Rinse the quinoa seeds with water until water runs clear prior to cooking. In a medium pan add the quinoa and water and bring to a boil. Allow to simmer until all the water has been absorbed by the quinoa and then remove from the heat and allow to cool.

In a large mixing bowl, combine the peanut butter and honey and mix until creamy. If the peanut butter is difficult to stir, put in microwave for about 30 seconds.

Add the rest of the ingredients, including the quinoa and mix well.

Line two baking sheets with parchment paper. Place spoonfuls of batter onto the sheets and bake for 10-12 minutes.