Mint Chocolate French macaroons
Macaron or macaroon? Doesn't matter when they are as yummy as these naturally gluten and dairy-free bundles of mint chocolate deliciousness!
As you may recall, my family is obsessed with British Baking … I even wrote a whole post about it here!  And one of the common things they make for decoration are macaroons, or macarons (does anyone know the difference?).  So I tried to make some.  And everyone in my family loved them, but I couldn't get it quite right.  The flavor and texture was right, they just didn't look right.
And this is where this month's Recipe Swap Club came to the rescue.  I was given Luisa from Always Room 4 Cake, and contrary to almost every other month, I decided to make a sweet.  And realized that macaroons are naturally gluten and dairy-free, which suit me fine.  Just because there's a lot of sugar in them … well, it's ok to have one or two every now and then I guess!  The original recipe was for a butterscotch flavor with a buttercream filling, but since I had great success with the flavors of my mint chocolate version before, I thought I'd try that again, and give you all the recipe so you can enjoy these as well!  Here's the original recipe if you want to check it out, and below is how I adapted it.
As part of this month's Recipe Swap, we are trying something new.  Not just linking to the original recipe website, but to get to know some of the other bloggers in the Club.  I asked Luisa some questions to find out more about her – let me present to you Luisa, from Always Room 4 Cake!
1)  What is your signature dish?
When it comes to dinner I'm really intimidated in the kitchen. I am 10x more comfortable baking. My husband is the cook around here. But if it's my turn to cook or if I've offered to bring someone a meal it's almost always a pasta dish. I am Italian after all 😉  It varies what flavour too. I love experimenting with sauces etc. My absolute favorite though is chicken carbonara.
2)  What do you do outside of cooking/baking/blogging?
I am a stay at home mom to 3 children. My oldest is in Junior Kindergarten. My son starts in September. And the baby will be a year
this Saturday
.   I do a little direct sales, a little volunteering and I love to be crafty!!
3)  How do you challenge yourself in terms of cooking/baking?
I always try to find recipes that are normally considered complicated and try them. Even if it's a few times. Like my macaron recipe.  I also like to try and spice up my current easy go to recipes in hopes to make something new.
4)  If you were a food, what would you be? Chocolate.
Thank you Luisa for sharing your recipe, and a little bit more about you.  It was a privilege getting to know you this month!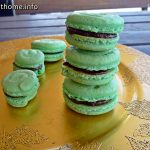 Mint Chocolate French Macaroons
Ingredients
For the macaroon
3

egg whites

room temperature essential

1/4

cup

50g white sugar

2

cups

200g powdered/confectioners sugar

1

cup

120g almond flour

1/4

tsp

cream of tartar

1/4

tsp

peppermint extract

Green food coloring
For the filling
1/2

cup

125g creamy almond butter

1/2

cup

150g honey

2

tbs

cocoa powder

1

tsp

vanilla extract
Instructions
For the macaroon
Beat egg whites until foamy, then add cream of tartar and white sugar until strong, stiff peaks form.

Add the peppermint extract and the food coloring and continue to beat until the stiff peaks form again.

Sift almond flour and powdered sugar (discard any lumps remaining).

Fold the flour/sugar mixture into the egg white mixture until just combined ... this will take some time to ensure all air remains, but not overmixing.

Transfer batter to a pastry bag (or a ziplock bag with the corner cut off).

Pipe out 1 inch rounds on a baking sheet lined with parchment paper.

Tap the pan hard at least 2-3 times to release the air bubbles, which will prevent the tops of the macaroons from cracking.

Leave them to sit at room temperature for up to an hour. The tops should be tacky to touch and not stick to the fingertips.

Bake for 20 mins at 350F and let cool completely.
For the filling and assembly
Combine all ingredients together until smooth.

Either pipe or spoon filling onto the base of one macaroon and add the top.