Monday, December 3rd, 2018 at 8:00 pm
Cookie dough balls that are healthy and yummy?  Sign me up!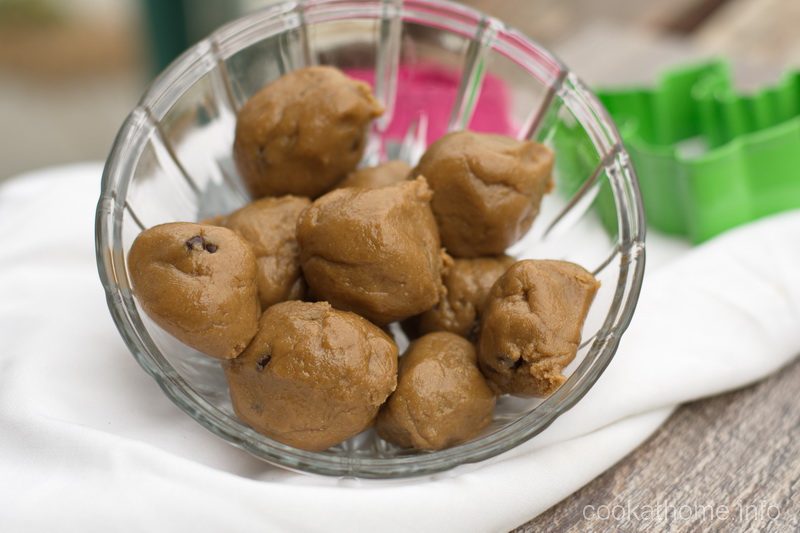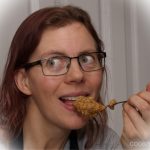 Yes, my love of cookie dough runs deep.  Very deep.  So deep you may say I should be called the Cookie Dough monster, not just the Cookie Monster!  My favorite cookie dough treats come in the form of chocolate covered truffles, or as a topping for brownies … or just straight out of the bowl via a spoon (see the photo to the left!).  But you may notice that both of these cookie dough treats are pretty high in sugar.  
So I took it upon myself to find a version of cookie dough, that was much less in sugar, and so simple to make that I could whip them up whenever the craving hit.  Which is often, I have to admit!  I follow a wonderful Instagrammer in vivacitybuzz and when she posted a raw cookie dough slice one day, I knew I had to try it.  I made a few tweaks, changed them to cookie dough balls, and now it's my go-to snack, when I just want that hit of nut butter and chocolate together.
I've made these with many different types of nut butter (almond, cashew, sunbutter, etc), but found that cashew butter just seems to give the nicest taste.  The original recipe uses a combination of cashew butter (1 cup) and tahini (1/3 cup), which you're more than welcome to try.  But the chocolate chips are non-negotiable.  I mean, sure you can add other ingredients like cranberries, or raisins, but the chocolate chips just give that crunchy, sweet texture that I love.
You can also melt a pile of chocolate (dairy-free if needed) and dip these cookie dough balls in the chocolate, allow to chill and harden before biting into them all.  Who wants to join me in being a cookie dough monster?  I'm happy to be joined by any or all of you!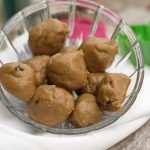 Healthy cookie dough balls
(Paleo, gluten-free, dairy-free, vegan, no refined sugar)
Ingredients
1 1/3

cups

cashew butter

2

tbs

maple syrup

3/4

cup

almond flour

1/2

cup

dairy-free chocolate chips
Instructions
Combine all ingredients except the chocolate chips together until well mixed.

Take 1 tbs of dough and form into a ball. Place into a freezer-safe container and repeat until all dough is used up.

Chill in the freezer for at least 2 hours.