Wednesday, July 12th, 2017 at 10:00 pm
First of all, apologies for kind of being missing in action for the past few months. It's been a busy time for us …
At the beginning of June my in-laws arrived for a visit in the US, we met them in Chicago and drove along Route 66 with them for 12 days. 2800-odd miles later and we were home, but with so many great memories of people, places … and the food! But that will be the subject of another post …
Then we had another few weeks with them at our place, and I was trying to get caught up with work, and I did a LOT of experimenting in the kitchen – lots of new recipes to come when I get the chance to put them all together here.
But this post isn't about that. It's about what happens when the kids see me experimenting and want to be creative as well. Henry is a classic for this. When he's bored (i.e. he's run out of his allotted screen time, he's read all the books he's borrowed from the library and it's closed), he will sometimes wander into the kitchen and announce he wants to bake. A cake.
Now Henry hasn't followed a recipe for as long as I can remember. He likes making things up as he goes along. Sometimes it works, sometimes it doesn't … This time I showed him a cake recipe that wasn't really a recipe – it went through what ingredients and how much of each to make a cake. So he took that on board, and went to work.
Unfortunately, when he first weighed out the flour, he added way too much for the amount of milk, and so he went back into mad scientist/cook mode. And added eggs, sugar (this time he remembered!), and then got creative and added sprinkles, strawberry lemonade flavor, bananas … and I don't quite remember what else.
And then he wanted it to be in swirls. So I helped him to make the swirls in the cake, and also helped with the frosting on top. The end result: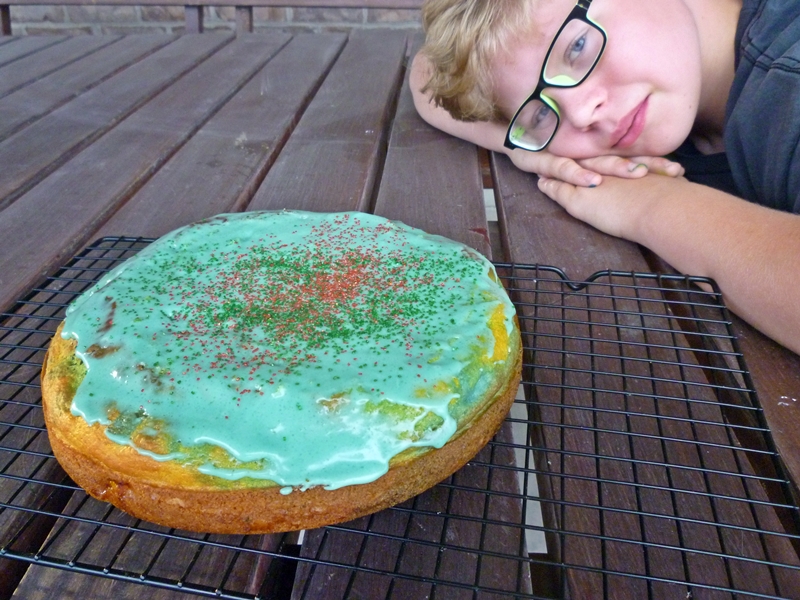 Now, fortunately, or unfortunately, he made it with full-gluten and full-dairy, so I wasn't able to partake of any of this delicacy. But the rest of the family did. And said it was … interesting. But it was all eaten within 2 days, so it can't have been that terrible!
My question is this – what is he going to think of next?
Loved spending time with him and showing him a few things about baking though. These are the memories that I'll keep for a long time.
Until next time, enjoy cooking at home … with kids!
Sarah (and Henry!)