Pina colada muffins
Monday, December 17th, 2018 at 8:00 pm
It's like a pina colada in your mouth – but in muffin form!
Who loves the combination of pineapple and coconut in the classic drink – the pina colada?  Well, let me introduce you to these pina colada muffins!
I have to give Grant the credit for the idea of this recipe.  And thanks to my time at the Farmer's Market, where I had to think a little bit on my feet to offer some new ideas throughout the season.  I wanted to provide another option of a healthy (i.e. no refined sugar) muffin.  And something different than just chocolate (although there is nothing wrong with chocolate in the slightest!).  So I was brainstorming with Grant one night about what other recipes I might be able to use at the Farmers Market.  And I remembered my strawberry basil muffin recipe.
But strawberries were kind of hard to come by as it was nearing the end of the season, and I really didn't want to have to buy fresh strawberries every week I wanted to offer my muffins.  So even though I love the flavor combination of strawberries and basil, I wanted to try something a little more easier to mass-produce.  And I saw all my tins of pineapple in the cupboard.  So my brain got to working …
Now, this recipe can be dry, and it can be incredibly crumbly.  If you find that the batter just isn't coming together, try adding 1 tbs of pineapple juice (from draining the chunks out of the tin).  If too moist, add a little more almond meal (and remember for next time to drain the pineapple a little more).  I found that when I was making these for the farmers market, just a little more pineapple juice helped the texture, as well as added a bit more flavor to the muffin part.
And who can resist big pineapple chunks in their muffin, as well as the sweetness of the coconut?  I ask you … and let me know in the comments below what you think!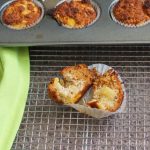 Pina colada muffins
(Paleo, gluten-free, dairy-free, no refined sugar)
Ingredients
2

eggs

1/4

cup

honey

75g

1/4

cup

coconut oil melted

62g

2

tsp

vanilla extract

2 1/2

cups

almond meal

300g

1

tsp

baking soda

1

cup

pineapple chunks

165g

1/2

cup

shredded coconut

30g
Instructions
Preheat oven to 350F. Line a muffin tin with paper liners.

Mix eggs, honey, coconut oil and vanilla in a medium bowl until smooth.

Add almond meal and baking soda and mix until just combined.

Fold in pineapple chunks and coconut, being careful not to over-mix.

Spoon the batter into the muffin tin, filling to the top.

Bake for 25-30 minutes, or until the tops are golden brown and a toothpick inserted into the center comes out clean.

Leave to cool in the tin for at least 10 mins before trying to remove but don't leave for too long or they will become soggy.
Tagged with: healthy • muffins • no refined sugar • paleo • pineapple
Filed under: Recipes • The Blog!
Like this post? Subscribe to my RSS feed and get loads more!