Monday, July 9th, 2018 at 10:00 pm
A nutty, seedy taste for this tahini swirl tea cake – the perfect accompaniment to any cuppa, hot or cold!
Since I found out what tahini is (sesame seed butter) a few years ago, I have been incorporating it into so many things – like these cookies, this slice and these energy balls – as well as slathering it on my omelettatas with salsa and with the classic chicken shawarma for that added flavor!  So when I found this recipe for a swirled sesame tea cake in a magazine I was flicking through one day, I knew I had to try it, and adapt to all my dietary requirements.
And hence this recipe for a tahini swirl tea cake was born.  The original recipe actually used black sesame seeds ground up into a paste for the contrasting swirl, but I couldn't go past the idea of having chocolate instead.  Now, it's a little bit more complicated a recipe than what I usually post, but it's worth it.  Trust me.  Grant mentioned that it may need some additional crunch in the bread, but I was going for a (mostly) nut-free option as well.  I haven't tried this with any other gluten-free flour blend combinations, so let me know if you do.  Of course, if you don't need the gluten and dairy-free options, feel free to use general all-purpose flour and whole-milk yogurt in the same proportions as I've got the gluten and dairy-free ingredients.
I particularly liked this by itself, but also tried it crumbled up in a yogurt bowl with some blueberries and some additional tahini on top.  Gee, that was a good combination.  Just excuse me while I go and make this again …!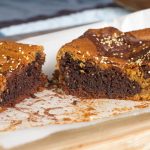 Tahini swirl tea cake
(Paleo, gluten-free, dairy-free, no refined sugar)
Ingredients
1

cup

almond flour

1/4

cup

coconut flour

2

tbs

tapioca flour

1 3/4

tsp

baking powder

1/2

tsp

ground cardamom

1/4

tsp

baking soda

1/2

cup

plain coconut yogurt

1/2

cup

tahini

2

eggs

1

tsp

vanilla

1/2

cup

avocado oil

1/4

cup

cocoa powder

2

tbs

sesame seeds

plus more for sprinkling

1

cup

coconut sugar

plus more for sprinkling
Instructions
Preheat oven to 350F. Prepare a 8x5" loaf pan with parchment paper and lightly coat with nonstick spray. Sprinkle sides and bottom of pan with some sesame seeds and coconut sugar and shake around to coat.

Whisk flours, baking powder, cardamom and baking soda in a medium bowl to combine.

In a separate bowl, whisk yogurt and tahini until smooth.

Using an electric mixer on medium-high speed, beat eggs, vanilla and 1 cup coconut sugar in a large bowl until eggs are pale and thick.

Reduce speed to medium and gradually stream in the avocado oil.

Reduce speed further to low and add dry ingredients in 3 additions, alternating with yogurt mixture in 2 additions. Beat after each addition until fully incorporated.

Scrape half the batter into a bowl and set aside. Add the 2tbs sesame seeds and cocoa powder to the other half and mix until well combined.

Alternating between batters, spoon large dollops into the prepared pan, then drag the tip of a knife through the batter to swirl. Sprinkle with more sesame seeds and a little more coconut sugar.

Bake for 30-40 minutes until a toothpick comes out clean. Transfer to a wire rack and let cool in pan for about 10 minutes. Then remove from the pan and place onto the rack to cool completely.