Strawberry chia pudding
A refreshing breakfast, this strawberry chia pudding, topped with trail mix and nut butter, will keep you full for ages!
Ok, so you're getting to know that I'm thoroughly entrenched in the world of chia puddings now, right? From the basic one, to having sweet potato as the base, to combining chocolate and avocado together, I've come up with some (what I think are) really yummy breakfasts. And the best thing is, they are fully customizable. Feel like granola and nut butter on top? Put it on. Add some protein powder? Not a problem. Don't have any protein powder? Add some ground flaxseed.
This delicious recipe for strawberry chia pudding came about because my kids were being fickle again. You see, they go in phases of liking strawberries and not liking them. During summer, there are always sales on strawberries, so when I see these sales, I buy them. Usually two packets of them. The kids will eat maybe a few the first night, and then the strawberries will just sit, being ignored all alone in the fridge. Until I get sick of seeing them and decide to use them (see my strawberry basil muffins for an example!). But, this time, I wanted to just make a good ol' healthy breakfast with them, with my new best friend, chia!
Now I just blended everything together in a small food processor, and I highly recommend this one, just make sure that the strawberries are relatively blended well before adding the chia seeds in. Leave overnight to chill in the fridge and enjoy the next morning with your favorite toppings!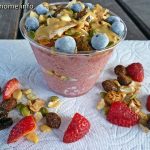 Strawberry chia pudding
(Paleo, gluten-free, dairy-free, no added sugar)
Ingredients
1

cup

strawberries

roughly chopped

1/2

cup

unsweetened almond milk

2

tbs

flaxseed meal

1

tbs

chia seeds

1

tsp

ground cinnamon
Instructions
Combine the strawberries and almond milk in a high speed food processor.

Add the flaxseed meal, chia seeds and cinnamon and process until well combined.

Pour into serving bowl or cup and chill overnight in the refrigerator.

Serve with favorite toppings, such as granola, nut butter, fruit.
Recipe Notes
For an added protein boost, substitute the flaxseed meal with protein powder, collagen peptides or gelatin.