Strawberry basil muffins
Sugar-free, grain-free, dairy-free and gluten-free … an unbelievably moist and yummy strawberry muffin with an unexpected hint of basil.
I just love it when kids change their minds about things, specifically food, without telling you they've changed their food preferences. One weekend I found a great deal on fresh strawberries and bought 2 punnets. Abby went to town, I baked with some of them, and both punnets were gone within the weekend. The second weekend I found an even better deal and bought another 2 punnets. By the following Tuesday, there was still 1 and a bit punnets left over and some were becoming distinctly furry. And so I hunted and experimented with a recipe that used a lot of strawberries, but still made something yummy and relatively healthy.
This is a ridiculously moist strawberry muffin, using no refined-sugar or grains, or dairy and 3 cups of strawberries. That's right – 3 cups of strawberries. You can just use the 1 cup chopped up at the end of the recipe (reduce the almond flour to 2 1/4 cups), but using the strawberries and pureed with the rest of the ingredients makes the moisture unbelievable! The basil just adds a different flavor and tempers the sweetness, making you want to take more bites to see if you really did just taste some herbs in a strawberry muffin!
I made a batch and took most of them to work the following day, leaving one each for the kids to try … they're healthy enough to have for breakfast. I came home and Abby asked if there were any more 'delicious strawberry muffins' left. Try them … let me know what you think!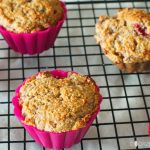 Strawberry basil muffins
(Paleo, gluten-free, dairy-free, no refined sugar)
Ingredients
2

cups

strawberries

chopped

2

eggs

1/4

cup

maple syrup or honey

1/4

coconut oil

melted

2

tsp

vanilla extract

2 1/2

cups

almond flour/meal

1

tsp

baking soda

1

cup

fresh strawberries

chopped

1/4

cup

fresh basil

finely chopped
Instructions
Preheat oven to 350F. Line a muffin tin with paper lines.

Place strawberries, eggs, maple syrup, coconut oil and vanilla in a blender or food processor and blend until smooth.

Add almond meal and baking soda and mix until just combined.

Fold in additional strawberries and basil, being careful not to over-mix.

Spoon the batter into the muffin tin, filling to the top.

Bake for 25-30 minutes, or until the tops are golden brown and a toothpick inserted into the center comes out clean.

Leave to cool in the tin for at least 10 mins before trying to remove but don't leave for too long or they will be come soggy.
Recipe Notes
Adapted from tasty-yummies.com