Berry spinach salad
Berry spinach salad with strawberries, blueberries, coconut, walnuts and spinach – you've gotta try this Whole30 compliant salad!
Have you ever gotten to the stage where all of your salads start to look and taste alike? No? Well, I have. I was constantly getting just some mixed greens from the grocery store, and chopping up things like carrots, cucumber, tomato, avocado etc for people to make their own salad. Sounds ok, right? But I was getting bored. And when I get bored, I try something new. The funny thing is – I have heaps of other salads that I could bring (like this spinach peach salad, or this not-Whole30 compliant roasted quinoa salad, or this compliant avocado salad, or … just check out my salads page for other ideas!). But I was bored this time with all of them!
We were recently invited to a friend's house for dinner (hi Janet!) and I offered to bring a salad. I'm in the middle of trying to reduce the amount of sugar I eat (a constant battle) and trying something new, where I don't bake every weekend or when I'm stressed. I'm TRYING to find another outlet to de-stress. So far so good. But normally, in the rare case that we are invited out for dinner, I will offer to make a dessert. This time I couldn't, but didn't feel that I could just bring my standard salad (see above paragraph).
It's berry season. And I wanted to make a salad with berries. Because who doesn't like fruit in a salad? I'd tried making a berry spinach salad one previous time, but seriously overdid the dressing and it wasn't that tasty either. When I started concocting this salad, I played around with using fruit juice, and lemon juice and other ingredients, and it just turned into a real disaster of flavors. So I started again. With just a simple mixture of balsamic vinegar and olive oil. And I gotta tell you, this worked so well!
Simple ingredients, simple recipe. You gotta try this berry spinach salad. You gotta!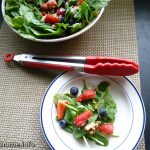 Berry spinach salad
(Paleo, Whole30, gluten-free, dairy-free, no added sugar)
Ingredients
3

cups

baby spinach

1

cup

strawberries

chopped

1/2

cup

blueberries

1/2

cup

walnuts

chopped

1/2

cup

unsweetened coconut flakes

2

tbs

balsamic vinegar

1

tbs

olive oil
Instructions
Combine all ingredients except the balsamic vinegar and olive oil in a salad bowl.

Mix together the balsamic vinegar and olive oil separately and drizzle over salad.

Combine well and serve immediately.