Ultimate refined sugar-free chocolate peanut butter slice
This refined sugar-free chocolate peanut butter slice is also gluten, dairy and egg-free, but still really tasty for chocolate and peanut butter together.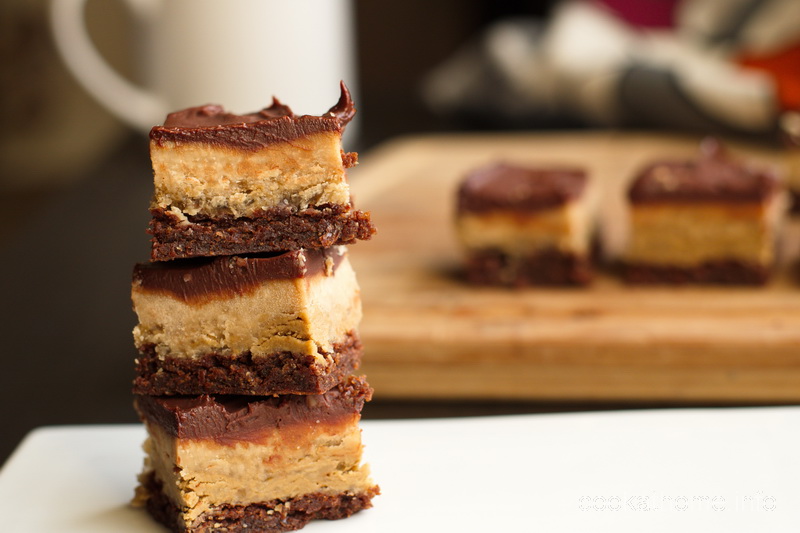 For those of you following along at home, you will know that I LOVE all things chocolate and peanut butter. So much that I came up with my ultimate chocolate peanut butter slice (recipe here) that has been a success EVERY SINGLE TIME. And EVERY SINGLE TIME I've eaten too much of it, while making it and after it's been completed. As you will see, it's pretty much chock full of sugar, fats, and other things that you really shouldn't eat too much of at one sitting. So I've been experimenting to come up with a refined sugar-free, dairy-free slice that will satisfy the main cravings of myself and others like me. And so this recipe was born.
Similar to the ultimate choc peanut butter slice recipe, this was a combination of a number of recipes – for chocolate peanut butter cookies in the base, a refined sugar-free peanut butter fudge (do you know how hard that was to find?), and a chocolate topping. When I took this refined sugar-free chocolate peanut butter slice to a dinner recently and explained it was just an experiment, the comments I got were – leave it like it is, put it on the website, it's great the way it is! So here you go …
Ultimate refined sugar-free chocolate peanut butter slice
(Gluten-free, dairy-free, egg-free, refined sugar-free, vegan)
Ingredients
For the base
300

g

all natural chunky peanut butter

140

g

maple syrup or honey

100

g

unsweetened applesauce

1

tsp

vanilla extract

130

g

ground flaxseed

60

g

almond meal

30

g

cocoa powder

unsweetened
For the peanut butter layer
250

g

coconut oil

250

g

peanut butter

1/4

cup

vanilla almond milk
For the chocolate layer
125

g

healthy dark chocolate

2

tbs

peanut butter
Instructions
For the base
Preheat oven to 350F.

Mix together all ingredients until completely combined.

Form into 1 tbs balls and bake in oven for 10 mins.

Allow to cool.

Place 250g cookies in a zip-loc bag and smash until crumbs form. You will have leftover cookies that you have my permission to snack on while you are waiting for the slice to set up!

Press cookies into an 8 x 8 in baking pan lined with parchment paper. They should hold together without additional coconut oil, but if really crumbly, add 1-2 tbs more melted coconut oil. Place in the freezer to chill while making the rest of the slice.
For the peanut butter layer
Melt coconut oil and peanut butter together in the microwave until easy to mix.

Add almond milk and taste to test. If you like sweeter things, add 1-2 tbs maple syrup or honey.

Pour over cookie base and chill in freezer for at least 2 hours.
For the chocolate topping
Melt chocolate with peanut butter in the microwave for approx 30 seconds until easy to mix together.

Pour on top of peanut butter layer.

Leave in the freezer overnight (the longer the better) before trying to cut into slices. Once the chocolate and peanut butter layers have set, the slice can be kept in the fridge, or eaten straight away!