Sarah's ultimate peanut butter slice
This recipe results in my ultimate chocolate peanut butter slice – a combination of 3 other recipes, but still so easy to make, and gluten-free!
As most of you are aware, I have been on a quest for the ultimate peanut butter slice. Well, I think I've gotten pretty close with this – still a few permutations that I'm thinking of trying before declaring it once and for all the slice I've had in my head to try to re-create.
It's a combination of a number of recipes, but they all seem to work really well together! For those who are interested, the base is the recipe from the chocolate peanut butter cookies, the filling is the peanut butter fudge and the topping I got from one of my internet searches for chocolate peanut butter slice recipes. Please try it out and enjoy!!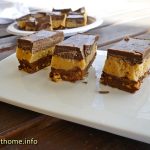 Sarah's ultimate peanut butter slice
2014-02-06 12:16:51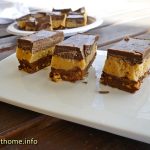 Nutrition Facts
Amount Per Serving
* Percent Daily Values are based on a 2,000 calorie diet. Your Daily Values may be higher or lower depending on your calorie needs.
For the crust
1/2 cup brown sugar
1 cup peanut butter
1 egg
1 tsp vanilla extract
1/4 cup cocoa
For the filling
250g peanut butter
250g butter
4 cups icing sugar
1 tsp vanilla
For the topping
250g cooking chocolate
4 tbs (60g) creamy peanut butter
For the crust
Mix all the ingredients together. Form into a prepared tin - an 8x8" should work well and bake at 350F for 10 minutes.
Once out of the oven, using the base of another pan, press down to ensure as thin as possible.
Allow to cool.
For the filling
Melt the peanut butter and butter together, either on the stove top or in the microwave. Add in the vanilla and icing sugar and mix really well. Spread on top of the crust and set aside while preparing the topping.
For the topping
Melt the chocolate and peanut butter together and mix to ensure all is smooth. Spread on top of the filling and chill in a refrigerator for at least 1 hour.
Once chilled and the chocolate topping has hardened, cut into pieces.
Cook at Home http://cookathome.info/