Bacon-crusted quiche
Because everything is better with bacon – give this Paleo-friendly bacon crusted quiche a go and enjoy!
Ahh bacon. Who thought that I'd enjoy it as much as I do now. And who'd think that a lot of the bacon has sugar in it? Amazing what doing a few rounds of the Whole30 can do for you in terms of finding where sugar sneaks in! But, I have found a few brands here in the US that are sugar free (thanks Pederson's!). And I love it. Now – I wasn't a real fan of bacon growing up – amazing how your taste buds change as you get older!
But this recipe, well, this one is up there with one of my favorites. A combination of my crustless ham and veggie quiche, and the sweet-potato crusted quiche, putting bacon as the crust, similar to my bacon-crusted pizza quiche. Either way, I'm enjoying this as breakfast, and as leftovers for lunches. It freezes and reheats well. And I sometimes just eat it cold – because I'm strange that way.
A word of caution – don't try to cut this with just a knife. To get through the bacon layer, I used a pizza cutter. The bacon isn't really crispy on the bottom, but it is definitely cooked and yummy.
Let me know what you think of this bacon crusted quiche! And whether I should stop coming up with these concoctions …!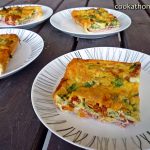 Bacon-crusted quiche
(Paleo, Whole30, gluten-free, dairy-free, no added sugar)
Ingredients
10

rashers of bacon

sugar-free for Whole30

1

cup

spinach

chopped

½

cup

sun-dried tomatoes

chopped

6

eggs

⅓

cup

almond milk

2

tbs

nutritional yeast

½

tsp

garlic powder

Salt and pepper to taste
Instructions
Preheat oven to 425 F and grease an 8x8" casserole dish with coconut oil.

Arrange the bacon rashers over the bottom of the casserole dish, overlapping since they will shrink after roasting.

Place the casserole dish in the oven and bake for 20 minutes until cooked through.

Whisk together the eggs, almond milk, nutritional yeast, salt, pepper, and garlic powder.

Lower oven heat to 400 F, then layer sun-dried tomatoes and spinach over the bacon in the casserole dish. Pour all the whisked egg mixture over the casserole to evenly cover.

Bake in the 400 F oven for about 25 minutes until the center is just set and edges begin to turn light brown. Allow to cool for a bit in the baking dish before cutting into pieces and serving.
Recipe Notes
Leftovers can be stored, covered, in the refrigerator for up to 5 days