Bacon-crusted pizza quiche
Who said you couldn't have pizza for breakfast? A Whole30 compliant, egg-based bacon crusted pizza quiche to get you started for the day!
As part of the Whole30 challenges that I've done, I've managed to convince Grant to change some of his eating habits as well. For a lot of his life, he would have two Weetbix (wheat biscuits), with milk and either sugar, or more recently honey, for breakfast. Healthy, whole-grains, not a problem. But as I removed a lot of the grains from my diet, and started having more and more eggs for breakfast, Grant decided he'd give that a go as well. His normal breakfast now consists of 2-3 eggs, a sausage or two pieces of bacon, lots of spinach and some sort of salsa/sauce. He says he feels much better for it, and has lost a bit of weight as well (I'm just a little jealous of that … considering other mornings he'll quite happily have a blueberry bagel with cream cheese!).
Anyway, I started playing around with a number of variations with eggs and veggies. And my sweet potato crusted quiche, omelettata and sweet potato toast with eggs and avocado were all born. But I wanted to do something different. So I thought – what about using bacon as a crust? And having a pizza sauce through it, so it tastes like pizza? And hence, this recipe for a bacon crusted pizza quiche was developed. I gave one of these to Grant to try and he just fell in love with it. But don't just take our word for it – try it and let me know what you think!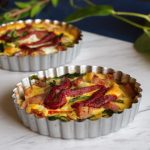 Bacon-crusted pizza quiche
(Paleo, Whole30, gluten-free, dairy-free)
Ingredients
8

pieces

bacon

1

roasted pepper

chopped

1

chicken sausage

diced

1/2

cup

spinach

chopped

4

eggs

1/4

cup

almond milk

1

tbs

nutritional yeast

1/2

tsp

garlic powder

1/4

cup

tomato paste

2

tsp

dried basil

2

tsp

dried oregano
Instructions
Preheat oven to 400F and prepare individual quiche baking tins with cooking oil spray of choice.

Place the strips of bacon on the bottom of each tin, aiming to cover the entire surface.

In a medium frying pan, heat the sausage and pepper until thoroughly cooked.

Arrange the sausage, pepper and spinach on top of the bacon.

In a small mixing bowl, combine the eggs, almond milk, nutritional yeast and garlic powder until well mixed.

Distribute equally across the four tins.

In a separate mixing bowl, combine the tomato paste, basil and oregano into a thick paste. Either mix this into the egg mixture prior to pouring into the tins, or just spoon on top.

Bake for 25 minutes, or until the eggs are no longer runny.

Can be stored in the refrigerator and reheated for up to a week.