Crustless ham and veggie quiche
A yummy and hearty dish that is chock full of whole healthy ingredients – this Whole30 compliant crustless ham and veggie quiche really satisfies
I have recently discovered the joys of eating eggs – I often now enjoy omelettes for breakfast (or scrambled eggs if the omelette doesn't work out!) and I have been looking for a decent quiche recipe. Well, I have found an awesome one, and adapted it to my liking. The first time I made this, I intended to use the 6 portions for lunch one day, breakfast the next and then lunches for the rest of the week. Well, I shared a slice with my husband, and then my son Henry piped up and said he wanted a slice too (3 slices gone). The boys then shared another slice for that same lunch (4 slices gone). I had my next slice for breakfast the next day and then Grant wanted a slice as well at breakfast. So, instead of the quiche lasting for most of the week, it was all eaten in 2 days. Obviously it is awesome tasting!
The best thing is that you can adapt it to whatever veggies or meat you have on hand at the time. The stuff in this recipe was just what we had in the kitchen … feel free to change out for other ingredients such as mushrooms, onions, potatoes, squash, asparagus etc!
Since discovering this recipe, I've adapted the general quiche idea to having sweet potato crust, or bacon crusts … see, the sky is the limit!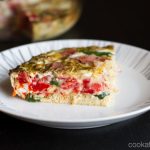 Crustless ham and veggie quiche
(Paleo, Whole30, gluten-free, dairy-free)
Ingredients
1/4

medium zucchini, cubed

70g

1/3

large red or orange capsicum

100g

1

cup

spinach

20g

1/2

cup

spring onion (1 bunch)

25g

100

g

sliced ham

1

tbs

dried thyme

1

tbs

dried ground oregano

6

eggs

1/2

cup

almond milk

125mL

2

tbs

nutritional yeast
Instructions
Heat a large frying pan over medium-high heat. Spray with non-stick spray and sauté all vegetables (except spinach) and herbs together. Stir frequently, cook for 6-7 minutes or until veggies are tender. Spoon into a bowl and allow to cool while you prepare the egg mixture.

Preheat oven to 180C/350F. Spray a casserole dish with non-stick spray and set aside.

In a large bowl, whisk the eggs and milk together until thoroughly combined. Add the ham and spinach and mix gently to combine. Add salt and pepper to season.

Arrange the veggies into the prepared pan. Pour the egg mixture on top and sprinkle with nutritional yeast.

Bake for 35-45 minutes or until filling is set and no longer jiggles. Cool for 10 minutes on a wire rack before slicing and serving.

Store tightly covered in a refrigerator for up to 4 days.
Recipe Notes
Adapted from Sally's Baking Addiction