Sweet potato crusted quiche
Using roasted sweet potato as a crust, this quiche is perfect for any meal from breakfast, right through to dinner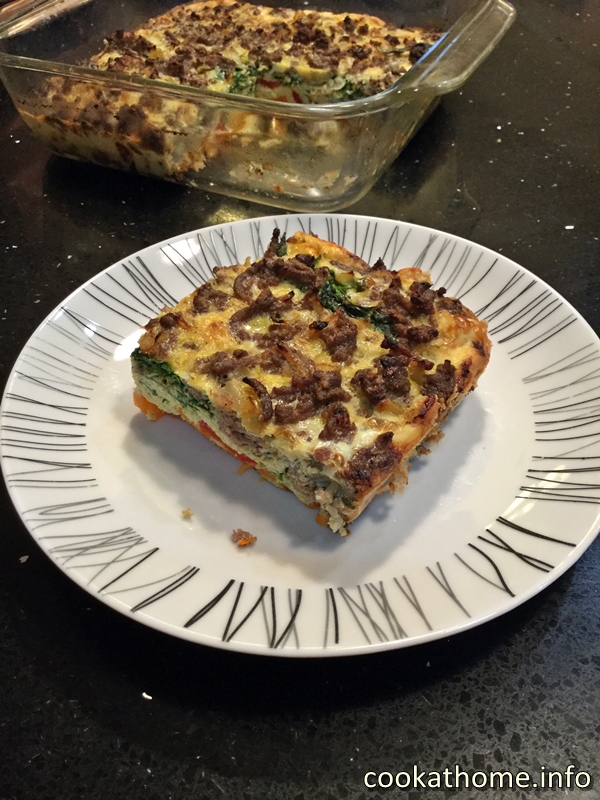 When I was growing up, my uncle had a farm in the country and he sold eggs from his many chickens. My father helped to sell these farm-fresh eggs in the city where we were living. My aunt would often give us for free the eggs that were slightly blemished, or odd-shaped, or those that we just couldn't sell. So we always had lots of eggs in our fridge. And I got to the point where I just didn't like them any more.
Fast forward to a few years ago, when I found out that gluten and dairy don't agree with me. And all my high fiber cereal that used to be the only thing I could stomach in the mornings were now off-limits. I tried eggs again. Mainly as omelettes (see here) or as a crustless quiche (see here). And I found that I actually liked them. And doing the Whole30, where even my homemade granola is off-limits due to the sugar, even though it's natural sugar, and trail mix (lots of fruit and nuts) is recommended to only be consumed on rare occasions, I started searching for other egg-based recipes that I could eat at breakfast time. And hence my omelettata was born (see here).
But I still wanted more. I know, I know, I should be content with what I know I can make well. But this recipe caught my eye from Paleo Running Momma – I love her recipes! Her recipe for a breakfast casserole (see here) contains a sweet potato crust, bacon, Brussels sprouts and caramelized onions. I was all set to follow her recipe to the letter, when I looked at what was in my fridge, and what I felt like and came up with a concoction that I actually really love – and you will too!
I had some ground lamb in the fridge, but I'm positive this would work well with ground beef or any other ground meat for that matter. Maybe next time I'll actually follow her recipe …!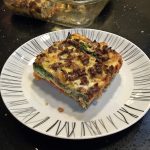 Sweet potato crusted quiche
Ingredients
1/2

lb

ground lamb

1

large sweet potato

peeled and sliced into thin rounds (approximately ¼")

1

cup

spinach

chopped

1

roasted red pepper

chopped

1

large onion

sliced thin

6

eggs

⅓

cup

almond milk

2

tbs

nutritional yeast

½

tsp

garlic powder

Salt and pepper to taste
Instructions
Preheat oven to 425 F and grease an 8x8" casserole dish with coconut oil.

Arrange the sweet potatoes over the bottom of the casserole dish, overlapping since they will shrink after roasting.

Place the casserole dish in the oven and roast for 30 minutes until soft.

Cook lamb and onions together in a medium frying pan until the lamb is brown through and the onions are soft.

While the lamb and onions cook, whisk together the eggs, almond milk, nutritional yeast, salt, pepper, and garlic powder.

Lower oven heat to 400 F, then layer roasted peppers and spinach over your sweet potato rounds in the casserole dish. Add the lamb and onion mixture on top and finally, pour all the whisked egg mixture over the casserole to evenly cover.

Bake in the 400 F oven for about 25 minutes until the center is just set and edges begin to turn light brown. Allow to cool for a bit in the baking dish before cutting into pieces and serving warm. Leftovers can be stored, covered, in the refrigerator for up to 5 days