Almond butter cream slice
An almond butter cream slice – made gluten and dairy free with no refined sugar – an indulgence you can seriously enjoy!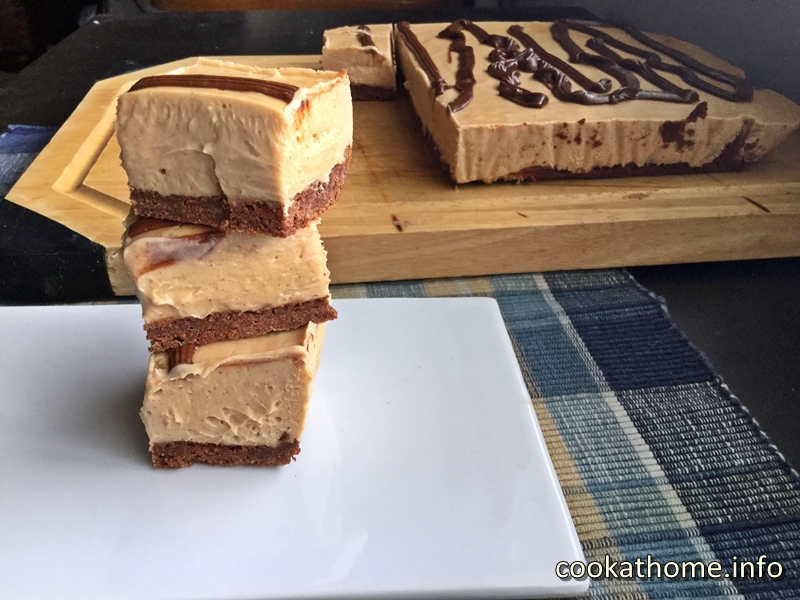 How many different ways do you think I can combine chocolate and almond butter? Well, I can make cookies. I can make a healthy slice. I can make brownies. I can make ice cream. But nowhere on this blog so far, have I just made a simple chocolate almond butter slice. And I wanted to. I gotta tell you, this almond butter cream slice was definitely worth giving a go – because it's so creamy, but without any dairy. How? Well, read on!
I was lying in bed awake one morning (because I can't seem to sleep past 5am) and was wondering whether my best ever chocolate peanut butter pie recipe would taste any good with almond butter instead. Now, for those of you who've followed along for a while will remember that I love peanut butter. A little too much at times. And when I have too much, my stomach fights back. It doesn't seem to do the same sort of thing with almond butter, so I've been using that a lot more recently. And loving it.
Now the secret in this almond butter cream slice is the cream layer – with a little friend I like to call instant pudding mix. You know, those packets of pudding mix that you can find at any grocery store – in the US there are so many different varieties of instant pudding, but I remember having to search a little bit more in Australia for them. But do not be alarmed, this almond butter cream slice recipe only requires a vanilla pudding mix – no need for some glamorous flavor! Although I'd highly recommend trying it with a cheesecake flavor, for example. Or chocolate, for an extra fudge-y flavor.
Simple ingredients, simple procedure – what's stopping you all from making this?
Almond butter cream slice
(Paleo, gluten-free, dairy-free, no refined sugar)
Ingredients
For the crust
1/4

cup

dairy-free shortening

55g

1/4

cup

honey

75g

1 1/4

cup

almond meal

140g

2

tbs

cocoa powder

20g
For the filling
1

sachet

vanilla instant pudding mix

1

tin

coconut cream

15oz

1

cup

almond butter

250g

1

tin

evaporated coconut milk

12.2oz
Instructions
For the crust
Preheat oven to 350F and line a 9x9" baking tin with parchment paper.

Combine all ingredients together until a dough forms. Use your hands towards the end of the mixing to form a ball.

Roll out the dough into 1/4" thick between two pieces of plastic wrap and place in the baking tin. There may be some rise up the walls of the tin, which is perfectly acceptable!

Bake for 10 minutes, or until hardened, and allow to cool.
For the filling
Using an electric mixer, combine the instant pudding mix with the coconut cream until thickened slightly and the beaters leave an impression in the mixture (approx 2 mins).

Add the almond butter and evaporated milk and mix for another 2 mins until well combined and thickened slightly again.

Pour on top of chilled crust and keep in the refrigerator for at least 2 hours prior to serving.
Recipe Notes
The shortening can be substituted with coconut oil, but this will make the base a little more soggy and difficult to hold it's shape.
Feel free to pipe a frosting on top - simply 1/4 cup almond butter, 1/4 cup honey, 1 tbs cocoa and 1 tsp vanilla combined with a little almond milk to achieve the desired consistency.