Chocolate almond butter cookies
These chocolate almond butter cookies are really moist and tasty, and very more-ish. I guess that's all you really need in a cookie?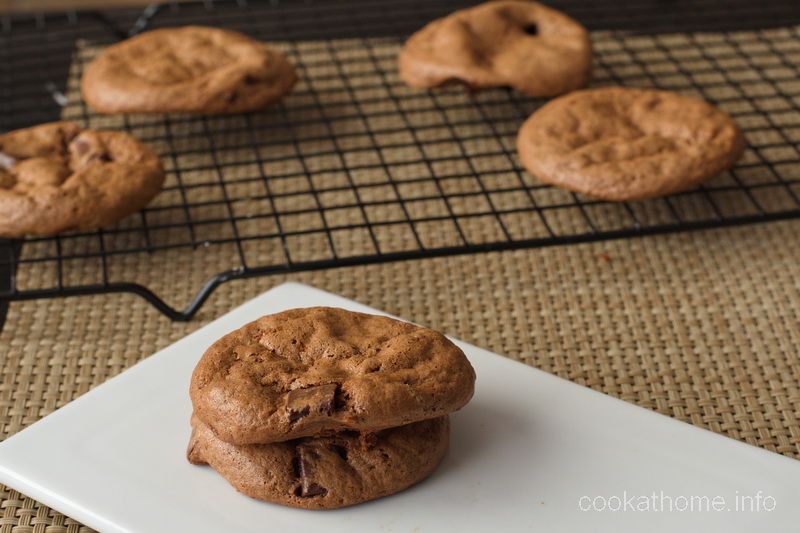 As you may have noticed, I LOVE peanut butter. And chocolate. And peanut butter and chocolate together.
But I also have a fondness for other types of nut butters – like almond butter. And cashew butter. Would love to try pecan butter and hazelnut butter … pardon me while I drool a little! So I thought to myself, what would happen if I adapted my chocolate peanut butter cookies to using other nut butters? Would the texture be ok?
So I tried almond butter for these cookies. And the result? Really moist and tasty. I guess that's all you really need in a cookie? I've also tried this recipe with cashew butter – and I put in some white chocolate chips just for something different. Still very VERY yummy!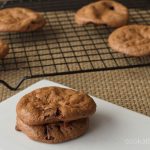 Chocolate almond butter cookies
(Gluten-free, dairy-free)
Ingredients
2

eggs

1

cup

almond butter

250g

1/2

cup

brown sugar, lightly packed

90g

1

tsp

baking soda

1/4

cup

unsweetened cocoa powder

32g

1

cup

chopped chocolate or chocolate chips

190g, dairy-free if needed
Instructions
Preheat oven to 180C/350F and line baking sheets with parchment paper or silicone baking mats.

In a medium bowl, beat the eggs. Add the almond butter, brown sugar, baking soda, and cocoa powder.

Mix everything together very well.

Fold in the chocolate chunks until combined.

Scoop the dough, about 1.5 tbs each, onto prepared baking sheet. Gently press down on the dough mounds with the back of a spoon, as pictured above.

Bake for 8 to 10 minutes.

Allow the cookies to cool for 10 minutes on the baking sheet before transferring to a wire rack to cool completely.