Almond butter chocolate swirl ice cream
Almond butter ice cream with a fudgy chocolate swirl throughout, with no refined sugar, gluten and dairy-free and Paleo-friendly!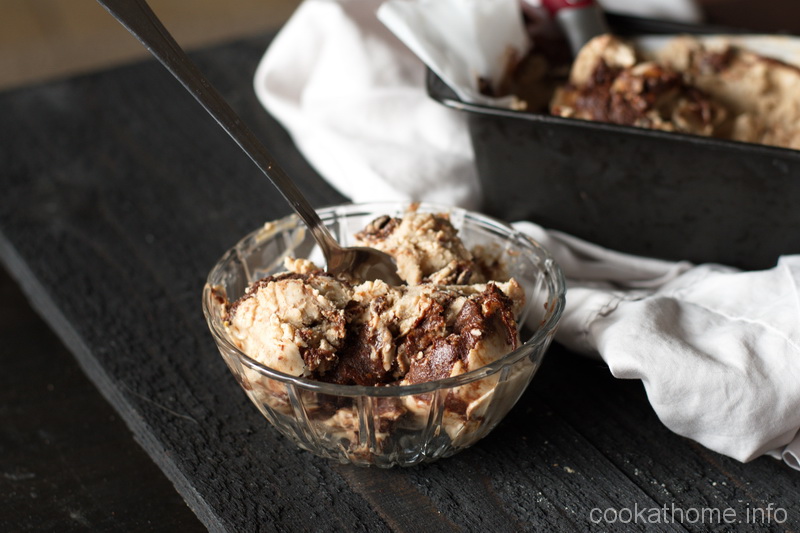 As it started to heat up outside, I had a sudden craving for ice cream. Strange for me, I know! But I wanted to try something different with my dairy-free ice cream. Something that gave it a slightly different texture and taste. And I saw this recipe for chocolate almond butter ice cream from Jays Baking Me Crazy (original recipe here). And so my brain started ticking over and I wanted to create a more vanilla type ice cream with a chocolate swirl throughout.
The gelatin in the ice cream was what was totally different to all of my other ice creams, and it certainly surprised me with the texture. It definitely helped it to set and be creamy – the kids just went nuts over the ice cream and almost got into fights to finish it off … only one day after I made it. Seriously, this ice cream is that good! The fudge swirl is my stock standard fudge, using a combination of the nut butter, a natural sweetener and a little bit of cocoa powder for that truly chocolate taste.
The swirl comes from putting the ice cream in layers with the fudge layer and then scooping out however you wish. It's a neat trick and I'm going to be using it much more in the future!
Have a go with this almond butter ice cream – and let me know what you think!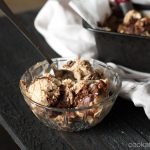 Almond butter chocolate swirl ice cream
(Paleo, gluten-free, dairy-free, no refined sugar)
Ingredients
For the ice cream
2

13.5 oz cans

full fat coconut milk

1/2

cup

honey

1 1/2

teaspoons

gelatin

1 sachet

1/2

cup

almond butter

1

tbs

vanilla extract
For the fudge swirl
1/2

cup

almond butter

1/2

cup

honey

1

tbs

cocoa powder
Instructions
In a small sauce pan, add the coconut milk, and honey. Whisk until smooth.

Sprinkle the gelatin on top and let bloom for about 5 minutes.

Whisk the gelatin in, add in the almond butter and vanilla and turn the heat on medium.

Heat until warmed through, but not boiling.

Pour into a container and refrigerate until cool - 5 hours to overnight.

Pour the cooled mixture in your ice cream maker and follow manufactures direction on churning.

While ice cream is churning, prepare a loaf pan. Line it with parchment paper and cut away any excess that hangs too far over.

Mix together the ingredients for the fudge swirl until smooth.

Scoop ice cream into pan, alternating ice cream and fudge in layers then freeze until solid - overnight is best.

Allow to stand for at least 10 minutes before serving.