Valentine's Day
Sunday, February 16th, 2014 at 5:40 pm
So this weekend we got to celebrate Valentine's Day. I made up a fancy menu for Grant and tried to cook the dishes he likes … obviously!
Valentine's Day started out with some home-made granola, just for Grant, as I still don't have any gluten-free oats yet. I used a different blend of fruit and nuts with which had more seeds than normal. And I also added some coconut, rather than maple syrup, to give it the sweetness he likes. He said it was really yummy, so meal 1 – tick!
I wanted to try my chocolate crackle cookies, but making them into a white chocolate version. I thought I could just substitute the milk chocolate for white chocolate and leave out the cocoa powder … massively wrong assumption. The cookies spread out in the pan and just didn't work! The taste was there – probably use it as crumbles on top of ice cream in the future!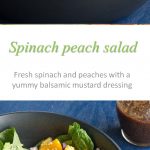 For lunch I made a spaghetti carbonara with bacon and panchetta, with a side salad of spinach and peach salad. Both of these were winners with the whole family, which was a good feeling after the failure of the white chocolate crackles!
Dessert I got a little too creative for my own good. I made a gluten-free brownie base (from a packet mix), topped it with a cream cheese/icing sugar/cream filling and then chocolate pudding on the top with shaved white chocolate. Tasted good, but it was a little confused as to whether it was a slice or a cheesecake or something else. But it was in a heart-shaped pan for Valentine's Day, and the whole family enjoyed, so meal 2 – tick!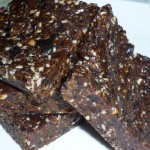 I also found a recipe for a healthy slice/bar thing that uses prunes, rather than dates or raisins … and I just had to try it. Couldn't really taste the prunes in it, but the chocolate (cocoa powder and milk chocolate) made it nice and rich. All using natural ingredients … apart from the milk chocolate! Don't think this will become my favourite (that's currently my healthy granola slice recipe here) but still good for a change.
My goal is to go through all the recipes I've posted here, make them all and take photos so I can use my own pictures, rather than those from the website. And hopefully I'll get better at my photos as well! Any suggestions for better photos (and recipes) are always welcome – just comment on either the recipe or the Suggestions page!
Filed under: The Blog!
Like this post? Subscribe to my RSS feed and get loads more!