Healthy granola bars
This healthy granola bar recipe uses all natural ingredients. The coconut, honey and dried fruit are for the sweetness and the nuts are for the crunchiness.
With the lack of gluten-free oats while we lived in Chile, I've did some searching and playing around with recipes to find a good healthy granola bar recipe that didn't use oats. (If you do want a granola bar with oats, try these here, here and here). I found this one somewhere on the internet, but because I like experimenting with stuff, I've adapted to whatever ingredients we can find here, and what we've got in the pantry. I've just put mixed nuts and fruit on the recipe, but you can use any fruit and nut combination you have – I usually have a bag of almonds, walnuts, prunes and sultanas (raisins) in our pantry so that's what I generally use, but have used other combinations, including seeds, with great success.
Also for your information, I've had success when I haven't had some ingredients – like coconut, coconut oil (or butter if you can eat dairy) etc. Just make sure you substitute with something equivalent. For example, when I didn't have any butter, I just doubled the peanut butter amount (mmm… peanut butter!).
What I love about this healthy granola bar recipe is that it uses all natural ingredients – with no added sugar. The coconut, honey and dried fruit are all sufficient for the sweetness and the nuts are great for the crunchiness. Doesn't mean it's low calorie, but definitely better for you than the mass-produced packaged granola bars you can buy from the supermarket.
The slice is very more-ish, but doesn't stay together too well as a slice, unless you REALLY press it into the pan prior to baking. Also it works if you don't bake it, but freeze it. And it works if you bake it THEN freeze it. But if all else fails and it crumbles, as I've written before, granola and/or muesli slices make excellent granola …!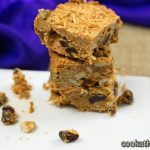 Healthy granola bars
(Gluten-free, dairy-free, no refined sugar)
Ingredients
1/2

cup

honey

1/4

cup

peanut butter

creamy or crunchy

1/4

cup

coconut oil

or butter if you can handle dairy

1

cup

shredded coconut

2 1/2

cups

mixed fruit and nuts

finely chopped

1

tbs

cinnamon

1

tsp

vanilla
Instructions
Melt together the honey, peanut butter and coconut oil, either using a microwave (careful not to let it boil over) or a small saucepan on medium heat.

Mix together the rest of the ingredients in a separate bowl.

Pour the liquid over the dry ingredients and mix well.

Place in a slice pan (I used an 8" x 8" pan, but also have used rectangular ones for thinner bars).

Bake at 180C for approximately 20-30 minutes.

Leave to cool and then slice into bars.

If you want slightly crispier bars, put the individual bars back in the oven for an additional 10 minutes.