Chocolate avocado chia pudding
A rich, chocolate pudding, full of goodness from avocados, dates and chia seeds – this chocolate avocado chia pudding is the perfect Paleo-friendly breakfast!
Ok, so I tried to be creative here – both with the recipe and with the photo. Not sure if the artistic worked in the photo, but I can tell you this chocolate avocado chia pudding recipe is so yummy! I have made it so many times now and each time, remember why I love it so much.
It's kind of a combination of my chocolate avocado frosting, and a chia pudding, with some extra stuff thrown in for good measure. Including tahini. Because I love tahini, and sometimes this girl just needs a change from peanut butter (what? I hear you say? It's true!). And it seriously fills you up at breakfast time. I have this chocolate avocado chia pudding and I'm good to go for another 6 hours before the hungers set in again.
And as always, feel free to substitute whatever you wish – I've used protein powder (thanks Vital Proteins!) instead of flaxseed, and I've just omitted the flaxseed entirely. But you do need to use a food processor to chop up the dates and the avocado together. And if you process the chia seeds as well, you won't necessarily have to wait overnight before that pudding texture happens. I usually do wait overnight, just because I find it easier to have breakfast basically made the night before, especially when I have to get up at stupid o'clock for work the next morning (thanks Elaine for that term – we use it all the time!).
But please give this chocolate avocado chia pudding a go – and feel free to put it in whatever bowl, glass, jar shaped receptacle you wish. Just eat it and enjoy!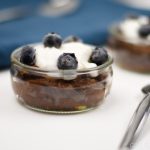 Chocolate avocado chia pudding
(Paleo, gluten-free, dairy-free, no added sugar)
Ingredients
1

medium ripe avocado

1/4

cup

unsweetened cocoa powder

10

medjool dates

pitted

1/4

tsp

vanilla

1/2

cup

unsweetened almond milk

2

tbs

tahini

2

tbs

chia seeds

2

tbs

ground flaxseed
Instructions
Combine all ingredients in a high speed food processor until smooth.

Pour into individual separate bowls and chill. The texture is better overnight, but can be eaten relatively straight away if desired.
Recipe Notes
Substitute the flaxseed with protein powder for an additional protein boost!