Chocolate olive oil cake
A moist, flourless chocolate cake that is the 'best' one I've ever made, according to my family!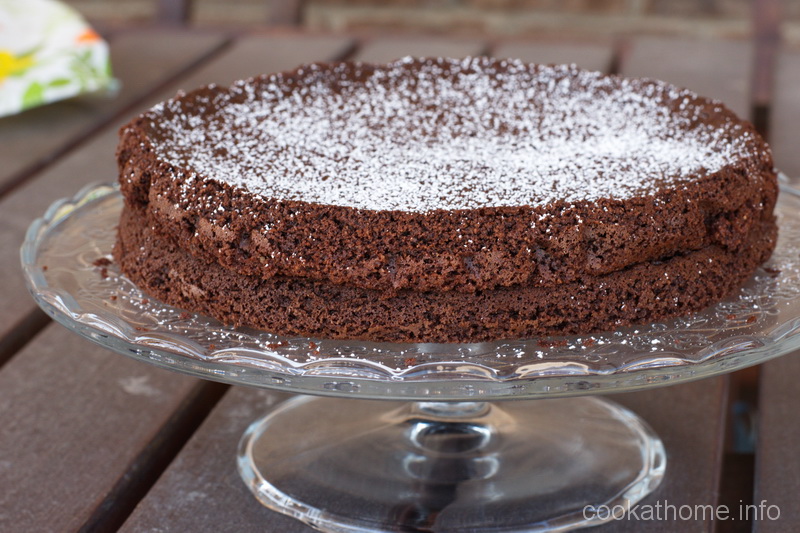 The quest for the perfect flourless chocolate cake … ah yes, I've had a few adventures with this over the years.  And I've found some pretty decent recipes out there, and modified them according to our own needs (see here, here and here).  And they all taste pretty good too (or else I wouldn't have put them on this website!).  But here's another one .. that every time I've made this, my family have commented that it's the 'best' flourless chocolate cake I make!
On a visit to Australia I watched Nigella Lawson's show – Nigellisima.  On one episode she made a chocolate cake using olive oil and almond meal which looked divine.  I got the recipe from her website and tried it – it tasted as good as it looked.  I also sifted some icing sugar on the top of it.  It was much more moist than other almond flour/meal cakes that I've tried, and the leftovers the next day were still very moist.  Also yummy slightly heated up with cream and/or ice cream.
The photo shows a simple frosting with cocoa, powdered sugar and hot water.  Can't go wrong with it!
Chocolate olive oil cake
(Gluten-free, dairy-free)
Ingredients
⅔

cup

regular olive oil

plus more for greasing

6

tablespoons

good-quality unsweetened cocoa

sifted

½

cup

boiling water

2

teaspoons

best vanilla extract

1 ½

cups

almond meal

½

teaspoon

baking soda

1

cup

white sugar

3

large eggs
Instructions
Preheat oven to 170°C (325ºF). Grease a 22 or 23 cm/ 9inch springform tin with a little oil and line the base with baking parchment.

Measure and sift the unsweetened cocoa into a bowl or jug and whisk in the boiling water until it forms a smooth, still runny (but only just) paste. Whisk in the vanilla extract, then set aside to cool a little.

In another smallish bowl, combine the almond meal with the baking soda

Put the sugar, olive oil and eggs into the bowl of a freestanding mixer with the paddle attachment (or other bowl and whisk arrangement of your choice) and beat together vigorously for about 3 minutes until you have a pale-primrose, aerated and thickened cream.

Turn the speed down a little and pour in the cocoa mixture, beating as you go, and when all is scraped in you can slowly tip in the ground almond (or flour) mixture.

Scrape down, and stir a little with a spatula, then pour this dark, liquid batter into the prepared tin. Bake for 40-45 minutes or until the sides are set and the very centre, on top, still looks slightly damp. A cake tester should come up mainly clean but with a few sticky chocolate crumbs clinging to it.

Let it cool for 10 minutes on a wire rack, still in its tin, and then ease the sides of the cake with a small metal spatula and spring it out of the tin. Leave to cool completely or eat while still warm with some ice cream, as a pudding.