Flourless 'molten' cupcakes
Saturday, August 15th, 2015 at 7:53 pm
It's been a while since Abby and I have spent much time in the kitchen together. Our Mummy-Abby time has been more about going for walks, watching movies etc, but she really wanted to make these cupcakes after she was inspired from watching a number of episodes of Cupcake Wars on Netflix.
The original recipe came from a friend of ours who put together a whole pile of gluten-free recipes for me, just after I found out that I was gluten-intolerant. I looked at the recipe in preparation for spending time with Abby in the kitchen and realized it used milk chocolate AND white chocolate. As most of you may know, it's pretty difficult and expensive to get dairy-free milk chocolate and almost impossible to get dairy-free and gluten-free white chocolate. I tried to think of a way I could make these dairy-free without it costing an arm and a leg, including trying to use peanut butter chips instead of the milk chocolate for the cupcake, and then dairy-free chocolate chunks for the inside. But then Grant just convinced me to take a Lactaid and make it with 'normal chocolate' considering I probably would only eat one and leave the rest for other people. So that's what we did.
We followed the recipe to the letter – including the 'real' cream instead of coconut cream, and butter instead of margarine or coconut oil. Abby was very helpful in making the batter, and pouring into the prepared pans (and licking the bowl – I didn't think it was worth taking another Lactaid just to lick out the bowl!).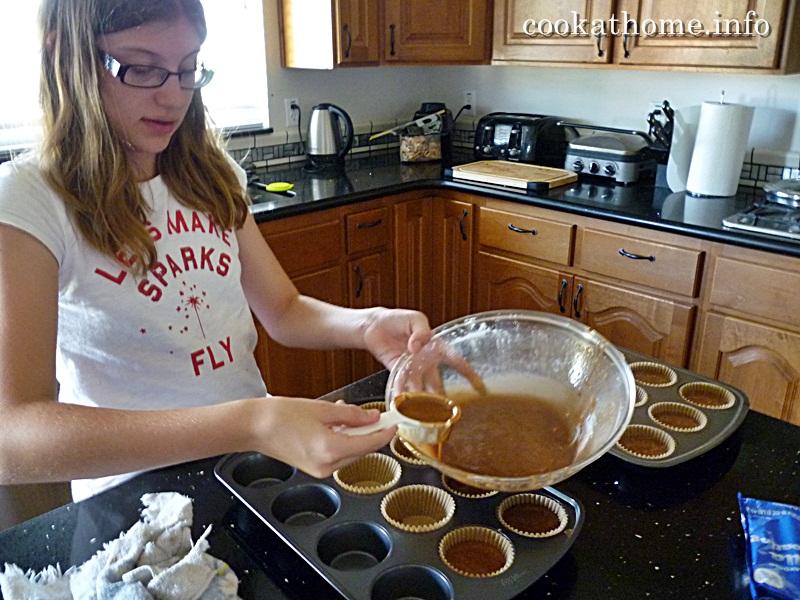 Fortunately we had Grant's parents to help us finish the cupcakes – we made about 20 of them and they were very yummy. I took some to work as well … and they went like hotcakes. I wonder, can cupcakes go as quickly as hotcakes? Sorry, digressing there for a moment!
So, everyone was happy. Abby was happy because she got to make these awesome cupcakes. I was happy because I got to spend time with my amazing daughter. The family was happy because they got to eat something yummy. The guys at work were happy because … well, they love everything I bring in for them – it's free food for them, after all!
I hope you've enjoyed reading about my adventures in the kitchen with Abby. I'd love to hear any comments – feel free to add comments below or e-mail me. Or send me any suggestions for something you'd like to see me try. Or just give me some encouragement!
Until next time, enjoy cooking at home … with kids!
Sarah
Filed under: Cooking with kids
Like this post? Subscribe to my RSS feed and get loads more!