Sweet potato toast, egg and avocado
This sweet potato toast with egg and avocado is a filling breakfast (or any meal) idea, also Whole30 compliant, and so yummy!
On my Whole30 challenge, I set out to try lots of different recipes, all abiding by the rules of the program. I have really enjoyed eating eggs again, and I kept seeing all these posts for sweet potato toast on social media. So I thought I'd have to try it. And I loved it so much it's become a regular in my breakfast routine. I've also had it for dinner … it is really that yummy!
If you've never heard of using sweet potatoes for toast, it is really simple. Slice the sweet potato in about 1/4″ slices and put in a toaster on the highest setting possible. When it pops up, put it in there for another round. And maybe another, depending on how crispy you like it. Once it's at the desired texture level, take it out and put your desired toppings on it. I've also put almond butter and blueberries on sweet potato toast, which was awesome, and my brain is constantly ticking over to think of other flavor combinations.
And the egg and avocado combination? Well, this is something I've also seen a lot on social media so I had to check it out. And I love it. I love the fact that avocados are encouraged on Whole30 – I think I've gone through at least a dozen just in the first few weeks of the challenge. I have some at least once every day. I never thought I'd say that I love avocados (Mum, Dad, are you surprised?)
Anyway, this may be a little out there for some of you, and it's not really a recipe, but I wanted to share it with you so you could try it for yourself! If you do, please let me know what you think … and whether I'm totally crazy!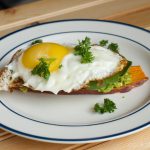 Sweet potato toast, egg and avocado
(Paleo, Whole30, gluten-free, dairy-free)
Ingredients
1/4

sweet potato

sliced into 1/4" strips

1/4

medium avocado

mashed

2

eggs

4

leaves

spinach
Instructions
Slice sweet potato into two 1/4" strips and place in toaster at highest setting. Once popped, return to toaster for another one or two times to get required crispy texture.

Fry eggs in a small frying pan sprayed with avocado oil.

Spread avocado on each slice of the sweet potato toast, lay spinach leaves on top of the avocado and top with an egg on each slice.

Serve and eat immediately.