Applesauce and trail mix breakfast
A Whole30 compliant breakfast – applesauce trail mix – full of fruit, nuts, seeds and yummy almond butter
One of the main complaints I've read about the Whole30 is that people get bored of having eggs every day. For breakfast, lunch and dinner. Well, I discovered putting eggs and avocado together on sweet potato toast (recipe here) was an awesome combination. But I didn't want to have that every day. And I noticed I had a jar of unsweetened applesauce in the pantry … opened and used previously in some of my healthy cookies (like my almond coconut cookies, and my coconut raisin cookies for examples). Did you know that if you have a jar of opened applesauce in the pantry, it can ferment? Well, I wanted to use it up (obviously) so I came up with this breakfast idea – applesauce trail mix.
It starts with applesauce. Make sure it's unsweetened and only full of natural ingredients. Then add some nuts, seeds and dried fruit. I make up a batch that I call trail mix, and it differs every time. But basically there's about 3/4 of the mixture as nuts and seeds – things like cashews, pecans, pumpkin seeds – and then a 1/4 of it being dried fruit – like dates, raisins. Don't use Craisins if you're trying to be Whole30 compliant – I found out the hard way that they contain sugar. Put this image in your head – after discovering this fact, picking out all the craisins from the mixture …! And then cover it all with almond butter. Full of goodness and keeps you full too.
It only took me about 1 week of having this breakfast every day to use up the applesauce. Now I'm wondering if I should buy another jar …! But please try this applesauce trail mix breakfast and enjoy!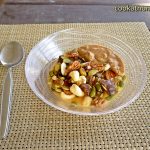 Applesauce and trail mix breakfast
Ingredients
1/2

cup

unsweetened applesauce

60

g

trail mix

mostly nuts and seeds, some dried fruit

2

tbs

almond butter
Instructions
Mix all ingredients in a bowl and enjoy.