Coconut raisin cookies
Paleo-friendly, delicious and moist, these coconut raisin cookies have such a delightful taste, they are the star of any gathering!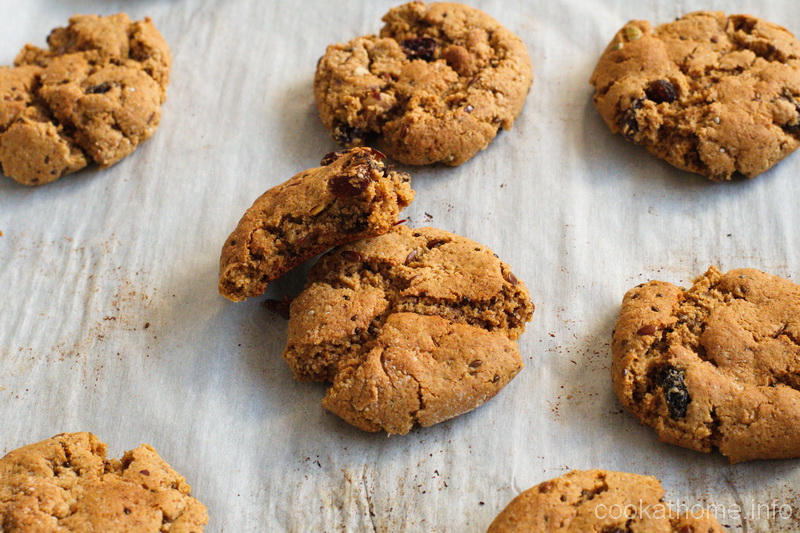 Another Sarah experiment – taking a recipe that promises 'perfect' Paleo cookies and changing it as much as I can without creating a nightmare cookies, which will ultimately end up in the trash. And the feedback from these coconut raisin cookies when I gave them to the guys I work with was that they were the 'best cookie I've brought in to work so far'. That's from a number of people, not just Grant (who can be slightly biased!), although he loved it too!.
Anyway, the base recipe was for a 'perfect Paleo chocolate chip cookie' from a website called www.texanerin.com – I love her stuff too, but I couldn't just copy and paste her recipe onto my website (but you can find her recipe here if you're interested), could I? So I took out the almond butter (strange for me to remove nut butter, I know!), substituted some unsweetened applesauce for the egg (because I have a whole big jar of applesauce in the cupboard that is going to ferment if I don't use it shortly!), substituted raisins for the chocolate chips and added some cinnamon.
And you have to try these. Please. If this is my highest rating cookie (beating such classics as monster cookies and chocolate crackle cookies) from the guys at work means I'm on the right path!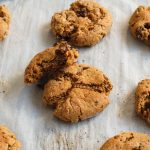 Coconut raisin cookies
(Paleo, gluten-free, dairy-free, egg-free, no refined sugar)
Ingredients
1

cup

almond meal

100g

1/4

cup

coconut flour

32g

1

tsp

baking soda

6

tbs

coconut oil

84g, softened

3/4

cup

coconut sugar

150g

2

tsp

vanilla extract

1

tbs

cinnamon

1/4

cup

unsweetened applesauce

1

cup

raisins
Instructions
Preheat oven to 350F (170C) and line two baking sheets with parchment paper.

Stir together the almond meal, coconut flour and baking soda in a medium mixing bowl. Set aside.

Mix together the coconut oil and coconut sugar until well combined.

Beat in the vanilla extract, applesauce and cinnamon and mix until well combined.

Gradually stir in the flour mixture until all combined. Fold in the raisins until well dispersed.

Drop tablespoonfuls of dough onto baking sheet and bake for 12 minutes.

Let cool completely on baking sheet and store in an airtight container for up to 3 days (if they last that long!).
Recipe Notes
Adapted from www.texanerin.com