Triple chocolate cheesecake
Sunday, April 12th, 2015 at 6:42 pm
When Abby originally went through my recipe folder, she found this recipe. It's off the back of a Philadelphia cream cheese packet and I don't think I've ever made it before, it was just there, waiting to be made for the first time. And now the challenge was to make it gluten-free and dairy-free. Well, check it out: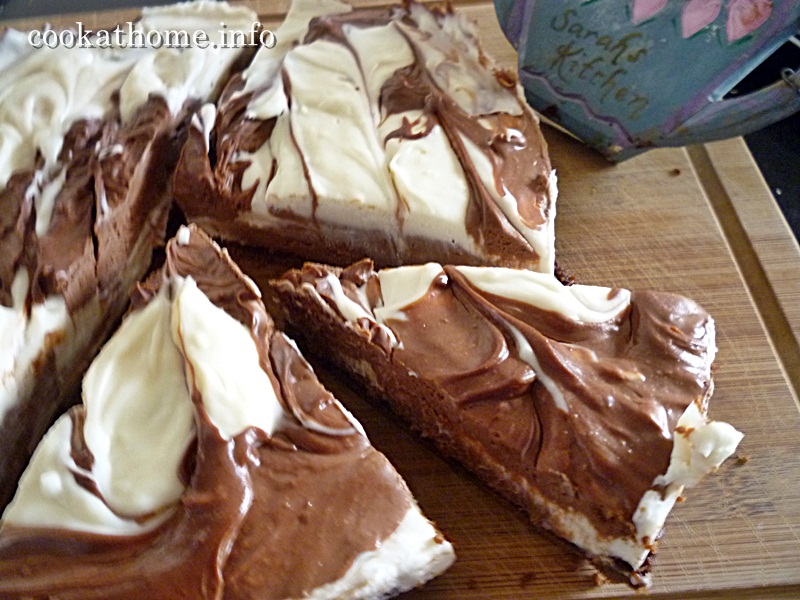 The base was my stock-standard chocolate peanut butter cookie recipe (see here), baked and then smashed into smithereens by Abby, a Ziplock bag and a rolling pin. The crumbs she made were awesome! The great thing about that recipe is that when using the cookies as a crust, or pie base, you often don't need to add any more butter (or non-dairy alternative). And that was the case this time as well – the base just came together really well, with Abby pushing to all corners of the pie tin!
The filling – 3 tubs of non-dairy cream cheese (expensive, but had to be done … probably just this once, though!), 2/3 cup of sugar mixed thoroughly. Then 3 lots of 100g of white chocolate, milk chocolate and dark chocolate melted individually. The cream cheese mixture got added to the chocolate, then some whipped coconut cream (the top part of a can of coconut milk that has been chilled in the refrigerator overnight) folded through it. Into the fridge overnight and the next day … it was pretty decadent!
This was probably one of the most adventurous dishes Abby and I have attempted, and probably won't attempt again in the near future. But it was fun doing it with her … gotta enjoy every moment she actually wants to spend with me before she really hits her teenage strides!
Hope you've enjoyed reading our adventures – until next week, enjoy cooking in the kitchen … with kids!
Sarah
Filed under: Cooking with kids
Like this post? Subscribe to my RSS feed and get loads more!