Matcha latte
Sunday, April 29th, 2018 at 10:18 pm
Enjoy all the benefits of matcha in this warm and cozy matcha latte – made dairy-free and with no refined sugar!
Matcha is basically powdered green tea. We've all heard the benefits of green tea (loaded with antioxidants and nutrients) that include improved brain function, fat loss, lower risk of cancer and many other good things. So, being powdered, means you get all of these benefits in a really concentrated form.
Matcha lattes have become all the rage on social media recently. I love having green tea, but didn't really get into the whole latte thing because I really don't like coffee. But I did find some matcha powder on special at the local grocery store and started experimenting with it. Namely by adding chocolate to it, because that's what I do!
And then I thought I'd give this matcha latte a go. So I looked up a few recipes for dairy-free, refined sugar free options and found that they were all pretty similar to my dairy-free hot chocolate recipe. Just using matcha powder instead of cocoa. And I experimented a little, but found that it was pretty much exactly the same as the hot chocolate proportions. And yummy.
A note to the unwary – make sure you dissolve ALL the matcha powder in the hot water/maple syrup mixture before adding to the milk. Having clumps of matcha powder come down your throat is not a pleasant experience. Take this from someone who's done it. Several times.
But this is a great drink for me in the mornings – a way to get some caffeine in, with all the health benefits listed above – and warming me from the inside out. Let me know if you give it a go!
Matcha latte
(Paleo, gluten-free, dairy-free)
Ingredients
1

tsp

matcha powder

1

tbs

maple syrup

1

tbs

hot water

1

cup

almond milk, unsweetened
Instructions
Combine the matcha powder, maple syrup and hot water in a small bowl until all matcha powder is dissolved.

Heat the almond milk until close to boiling, either on the stove or in the microwave in your cup of choice.

Add the matcha mixture to the warm milk and stir completely. And enjoy!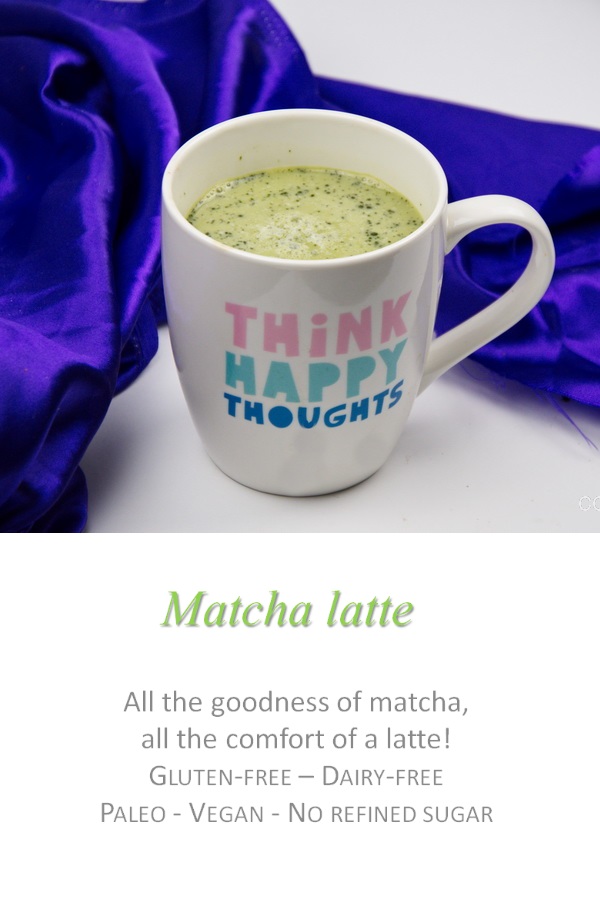 Tagged with: drinks • healthy • no refined sugar • paleo
Filed under: The Blog!
Like this post? Subscribe to my RSS feed and get loads more!