Dairy-free hot chocolate
For the times you want hot chocolate, just for you, this dairy-free treat will warm you from the inside out
It's getting very cold now – this week the temperatures are not expected to go above 40F (4C). And everywhere I turn on social media, there are recipes for hot chocolate, complete with marshmallows and feelings of warmth and coziness. So I decided to hop on the hot chocolate bandwagon as well, because, well, I love all things chocolate!
A lot of recipes I've seen recently for hot chocolate involve melting some chocolate in a saucepan on the stove, then adding milk etc. And it makes a lot of a yummy drink, maybe for families etc. This is not one of those recipes. This is simply mix some cocoa powder with maple syrup, dissolve it in some hot water, add milk (dairy-free) and microwave. And it makes a yummy hot chocolate, just for one person. Do you feel special? You should, because I do every time I make this.
If you're wanting to go all natural sugar, i.e. not even maple syrup, try this date-sweetened hot chocolate idea. A little bit more work, but still an amazing flavor and warmth!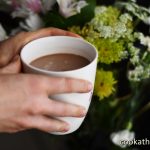 Hot chocolate
(Gluten-free, dairy-free, no refined sugar)
Ingredients
1

tsp

unsweetened cocoa powder

2

tsp

maple syrup

1

tbs

hot water

not boiling

1

cup

unsweetened almond milk

1

tsp

ground cinnamon
Instructions
Mix together cocoa and maple syrup in a coffee mug until a paste forms.

Add boiling water to ensure all cocoa powder is dissolved.

Add almond milk and microwave for 1-1 1/2 minutes until desired temperature is obtained.

Sprinkle cinnamon on top and stir well.

Enjoy!