Ugly pie crust
This ugly pie crust was inspired while driving along Route 66 in Texas. It doesn't always look perfect, but tastes great!
At the midway point of Route 66 is a town called Adrian, Texas. When Grant and I drove along Route 66, we stopped at a diner called the Midpoint Cafe and tried their cream pies. They were absolutely awesome! And then we noticed that they sold recipe books, for their 'ugly crust pies'. I just had to have it, and so we've tried many, many different combinations of fillings and flavours (see the recipe for the basic filling here). And the good thing is, substituting for gluten free in the pie crust works really well, so I can still have my pie and eat it too!
This pie crust recipe also works well in making 'mini-pies', where you cut out circles of dough and place in a muffin tin. Using the whole recipe shown here usually yields about 12 mini-pies, sometimes you may have some left over crust, which you can cook and eat with jam and cream (or any other topping you desire!)
Suggested fillings:
Chocolate cream filling with peanut butter base
Peaches & cream filling
Banana & caramel/manjar filling
Pecan pie filling
Pumpkin pie filling
Mint cream & chocolate fudge topping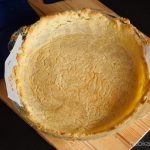 The ugly pie crust
(Gluten-free, dairy-free, no added sugar)
Ingredients
2

cups

all-purpose gluten-free flour

1

tsp

salt

1

cup

butter

or shortening or margarine

1/3

cup

milk

dairy-free if needed

1

tbs

white vinegar

or apple cider vinegar
Instructions
Sift together the flour and salt in a large mixing bowl.

Cut shortening into flour/salt mixture until it resembles cornmeal.

In a separate bowl, mix the milk and vinegar together until the milk sours.

Pour over the flour mixture and stir until the dough sticks together and forms a ball.

Knead just long enough to make the dough smooth, using extra flour as needed.

Roll out on a floured board.

Place into prepared pie dish and either bake at 180C for 15-20 mins, or add fillings prior to baking (depending on what filling).
Recipe Notes
Yields 2 x 9" pie crusts
To make this gluten free:
Substitute the 2 cups flour with 1 1/2 cup rice flour, 1/3 cup potato starch, 1/3 cup tapioca starch and 1 tsp xanthan gum.
Adapted from Ugly crust pies