Turkey and avocado burger
Gluten and dairy free – this turkey and avocado burger gives a certain zing to the ordinary hamburger patty.
My family loves turkey burgers. I think Henry would have them every day if I was willing to make them for him. Whenever he gets to suggest a meal idea for the family, it is invariably turkey burgers. Simple to make, yet can be made to taste so many different ways depending on what herbs and spices are used.
I have a simple burger recipe already on this site (see here) but I was checking out a few things on the internet and was inspired to add some other ingredients into the patty. Now, my normal burger consists of the patty, avocado spread on the (gluten-free) bun, with tomato and spinach on top. The rest of the family? Well, their burgers include bacon, eggs, cheese, grated carrots and some sort of greenery (insisted upon by me and Grant!). And some sort of ketchup, mayonnaise, sweet chili sauce, pesto, garlic butter, you name it for the condiments. See how I am totally different to my family?
Typically I will have a burger on top of a portobello mushroom, but one time I had a coupon for Canyon Bakehouse and I love their 'Everything' bagels, so I put this awesome burger on their awesome bagels. Added some spinach and tomato and it was soooo good! Other times I've used a portobello mushroom, or even grilled eggplant as a bun substitute.
Anyway, here's an idea if the rest of your family aren't so adamantly against avocado (like mine are). I tried this, and it was awesome. Just kicking the burger up an extra notch and giving it that 'zing' to make it different.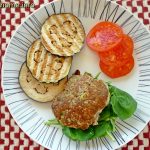 Turkey and avocado burger
Ingredients
1

lb

ground turkey

1

egg

1

avocado

coarsely mashed

1

tsp

ground sage

1

tbs

dried basil

1

tbs

oregano
Instructions
Mix all ingredients together in a mixing bowl and continue mixing until a paste-like texture forms.

Form into 4 patties and chill for at least 1 hour.

Heat grill to medium high and cook until desired done-ness is achieved.

Place on hamburger bun or substitute and top with desired fixings.