Burgers
A basic burger recipe that contains no gluten but still packs a punch with flavor. Add any herbs and spices you wish to change the flavor of these burgers each time!
When Grant and I drove along Route 66, we tried to avoid the typical American burger joints, and went for more of the local hamburger places. We had an awesome pulled pork sandwich in Williams, Arizona … mmm, I remember it well! But this isn't about pulled pork, it's about how I've adapted a basic burger recipe to being gluten free.
Most burger recipes use breadcrumbs or some other gluten-containing binding agent. I've found (after watching a few cooking shows) that breadcrumbs aren't necessary at all – to help the burger patty stick together, the trick is to chill the patties for about an hour after they've been formed before you cook them. So, it's a VERY basic burgers recipe, but one that's worked really well!
I've used all types of ground meat to create burgers – beef, chicken, lamb – but by far my favorite, and the one we have most often, is ground turkey. It just lends itself to so many different herb combinations. And I've even put an avocado in the burger itself!
Feel free to experiment and let me know how you go!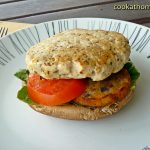 Basic burger recipe
(Paleo, can be Whole30, gluten-free, dairy-free)
Ingredients
500

g

ground turkey

1

egg

2-4

tbs

dried herbs

oregano, basil, parsley, etc
Instructions
Combine all ingredients together well with your hand.

Shape into patties and chill for at least one hour.

Fry, grill or bake the patties.
Recipe Notes
Options for meat substitutions - beef, chicken, lamb, veal
Options for herbs and spice combinations - poultry seasoning, Montreal steak spice, paprika/cumin