Taco soup
A low-calorie, gluten and dairy-free hearty taco soup that is healthy comfort food.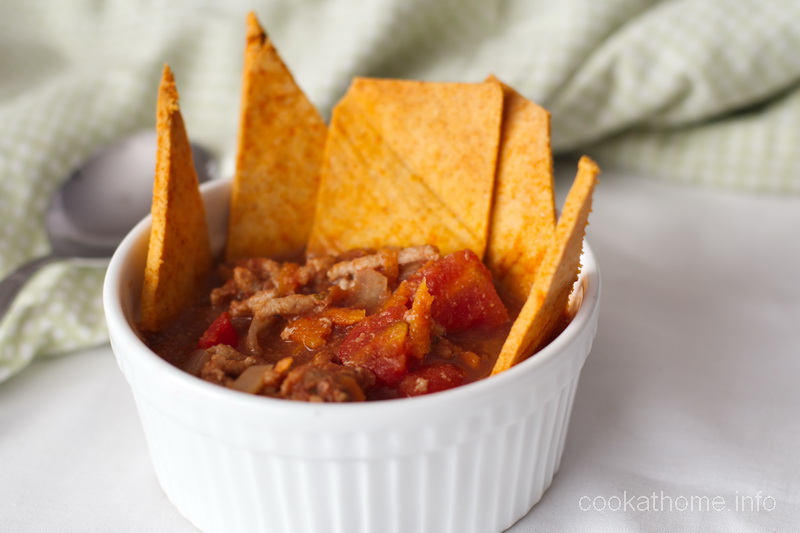 This taco soup is an awesome hearty meal, that I have recently fallen in love with. And so I should – I've served it to well over 150 people in the last two weeks! Let me tell you about it …
When we had Grant's parents visiting us a few months ago, we took a trip down to Arizona and Nevada, and stopped along the way at a quaint little coffee shop where the specialty of the place was taco soup, served with corn chips, sour cream and shredded cheese. And it was gluten-free. And highly recommended. So both Grant and I had a bowl (I didn't have the sour cream or cheese) and it was YUMMY!
Fast forward a few weeks, where it started to get colder here in the US and Grant wanted me to try making taco soup. The first time, I didn't have enough liquid so it turned into chili (similar to this). Yummy, but not the soup consistency that he's after. We still had it with tortilla chips (and the others had the sour cream and cheese). The next week I added twice as much water in the slow cooker and it was perfect. So we had a winner.
So then we had a lunch where we invited some people around for church and I tried to make taco soup again – but again, there wasn't enough liquid. And it didn't quite feed everyone so I had to improvise with some diced chicken and fajita seasoning (that was good too!).
The next weekend, we went downtown to help with another church hand out blankets and warm clothing to the homeless, and they also handed out food (donuts, coffee etc). And since Grant and I have been talking about a soup kitchen idea for ages, we thought this would be a perfect opportunity to give it a go. So, I made a HUGE batch and probably served over 100 servings.
And then a few days later I used this taco soup to cater for a lunch with the guys from work – 20 strapping guys, all with big appetites. And they loved it!
You can use any type of ground meat for this – I've used beef and turkey with equal success. And feel free to add any other veggies into the mix … especially if you're making it at home and you want your kids to eat more veggies. I often grate up carrot and celery and add to the soup, if I had zucchini I'd use that too! Also, use any type of beans, process them into a paste or just leave them whole – it's entirely up to you!
And enjoy … and let me know how you go!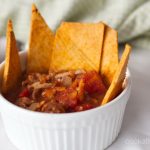 Taco soup
(Paleo, Whole30, gluten-free, dairy-free)
Ingredients
1

lb

ground turkey

1

tin tomato paste

6 oz

1

cup

chicken stock

1

tin diced tomatoes

1

onion

finely diced

1

chipotle pepper in adobe sauce

finely chopped

2

carrots

grated

1

celery

finely diced
Instructions
Add the diced onion to a hot frying pan and cook until softened.

Add the meat and cook until no pink color remains.

Move the meat and onion mixture to a large stock-pot or cooker on medium heat. Add all other ingredients and mix well.

Stir occasionally and let simmer for approximately 45 minutes. If you have time and patience, let it simmer for longer as this helps the flavors to really shine.

Serve with corn or tortilla chips, a dollop of sour cream and a sprinkling of shredded cheese as desired.