Healthy tortilla chips
Healthy tortilla chips that are grain-free, gluten-free and Paleo-friendly. Use for dipping in salsa, as chips for nachos or just in soups as you please!
Are tortilla chips healthy for you? Why would you bother making them for yourself instead of just paying the miniscule amount that they cost here in the US? That was the question Grant asked me when I decided to try to make some grain-free, gluten-free healthy tortilla chips … just because. And I found this really, REALLY easy recipe that fits the bill. Try it, you'll love it!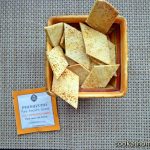 The spice blend shown below is really yummy, but if you have access to it, try the spice blend from Pranayums (website here). Pranayums is a daily super spice boost in a convenient pack. Each packet of Pranayums contains a special blend of turmeric, black pepper, cardamom, ginger, cinnamon, licorice root and other spices. I thought I'd give them a go with these chips and see how they went. My friends, they are awesome with this spice blend. Try this if you can – I promise you won't be disappointed!
These can be served with whatever topping you'd like! I love it with my roasted red pepper hummus (recipe here), but feel free to make up your own salsa (or buy one), or any other type of sauce/topping. Or you can use them as dipping into soups (like this, this or this) or as homemade nacho chips for your nacho taco dippos.
Just try them. Trust me!
Healthy tortilla chips
(Paleo, gluten-free, dairy-free)
Ingredients
1

cup

almond meal

1

egg

1

tsp

cumin

1

tsp

paprika

1

tsp

chili powder
Instructions
Preheat oven to 325F.

Combine almond meal and spices and mix in the egg.

Mix together until a dough forms - this may take a while but keep mixing!

Place dough between two pieces of parchment paper and roll as thin as possible.

Cut into size and shapes of your desire.

Transfer the dough and parchment paper together onto a baking tray and cook for 11-13 mins. They crisp up the longer they bake in the oven, so it depends on how crispy you want them!

Leave to cool and crisp up even more.

Serve with your choice of toppings.
Recipe Notes
Adapted from paleogrubs.com