Spinach and orange salad
A refreshing salad with summer flavors of spinach, oranges and nuts.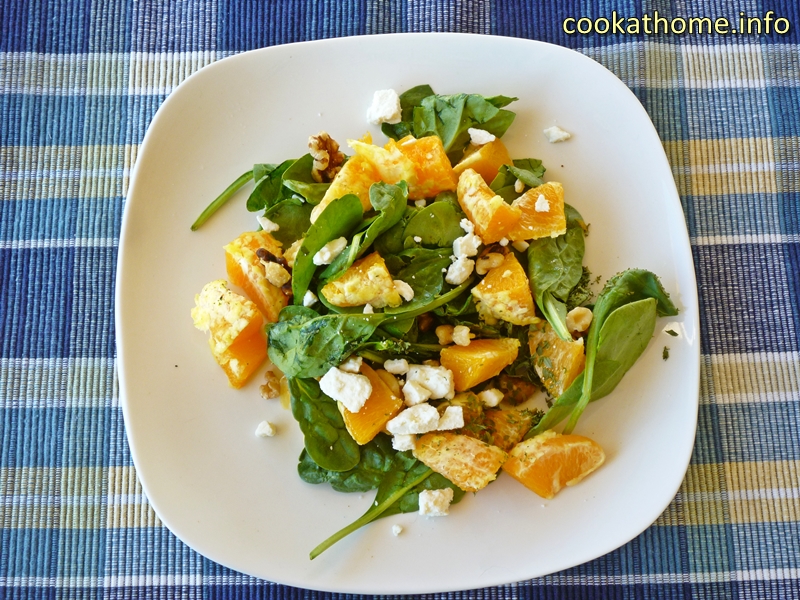 This is Grant's all-time favorite salad (except for the Spanish potato salad and the spinach peach salad) – but every time I make this for him, he tells me it's his favorite. Every time we get asked to bring a salad to a potluck, he suggests this. Why? Because this salad is so full of flavor and textures.
Think about it – spinach … good for you and Popeye, oranges … nice and refreshing, nuts … gives that crunch and cream cheese … if you can tolerate dairy, this lifts the salad to the next level. The dressing is really simple – the recipe calls for freshly squeezed orange juice, but I often just use the bottled variety. Try not to drench the salad in too much dressing – keep the spinach crispy just to get all those complementary textures going together in your mouth at once!
Spinach and orange salad
2013-11-02 16:40:23
Serves 6
Nutrition Facts
Amount Per Serving
* Percent Daily Values are based on a 2,000 calorie diet. Your Daily Values may be higher or lower depending on your calorie needs.
Dressing
2 tbs olive oil
1 clove garlic
juice of one orange
Salad
100g baby spinach
2 oranges, peeled and thinly sliced
1/2 cup flat leave parsley
125g block cream cheese
1/4 cup finely chopped walnuts
Instructions
Place all dressing ingredients in a jar and shake well.
Place all salad ingredients in a large bowl and mix either with hands or spoons.
Just before serving, drizzle dressing through salad and mix.
Notes
The ingredient list gives approximate proportions, but you can adjust as you see fit. If you don't have fresh parsley, just add more spinach, or other green leafy vegetable.
Cook at Home http://cookathome.info/
Back to lunch &/or dinner ideas