Spanish potato salad
A yummy potato salad with a different taste due to the paprika!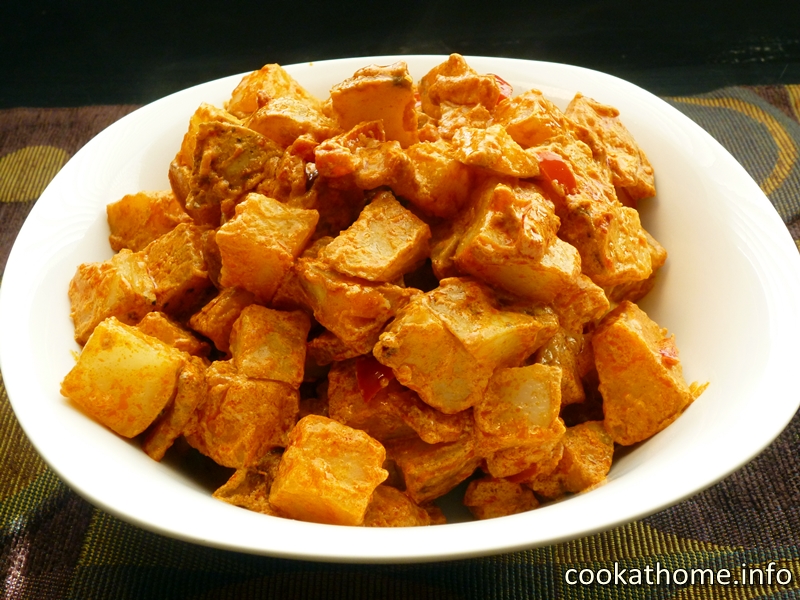 When I was a kid, my parents called me the 'Carbohydrate kid' – anything with carbs in it and I'd love it … especially hot chips (french fries), baked potatoes with cheese, coleslaw and sour cream, potato salad, mashed potatoes, bread … sometimes even chip sandwiches! (just remembering my childhood here and drooling a little!). My mum's potato salad was nothing like the one in this recipe though – I thought I'd just give you all a recipe for something a little out of the ordinary.
The paprika is what really makes this salad. It's a creamy, slightly smoky taste that makes you want to go back for more … and more!
To make this dairy-free, see if you can find some dairy-free sour cream at your grocery store. In the US, there is a tofu-based option that you wouldn't even know there was a difference.
Spanish potato salad
2013-11-02 16:42:16
Serves 6
Nutrition Facts
Amount Per Serving
* Percent Daily Values are based on a 2,000 calorie diet. Your Daily Values may be higher or lower depending on your calorie needs.
Ingredients
1 kg potatoes
1/2 red capsicum
1/2 yellow capsicum
2 bacon rashers
1 tbs paprika
250g sour cream
Instructions
Boil potatoes until tender, drain and cool slightly.
Fry bacon and capsicum together until bacon is cooked and capsicum is tender.
Add paprika and stir for 1 min.
Mix in sour cream, bring to boil, then remove from heat.
Add potatoes and mix gently.
Can be served either hot or cold.
Cook at Home http://cookathome.info/
Back to lunch &/or dinner ideas