Peanut satay chicken potato pizza
Peanut satay chicken potato pizza with spinach and peppers – what could be better for pizza nights?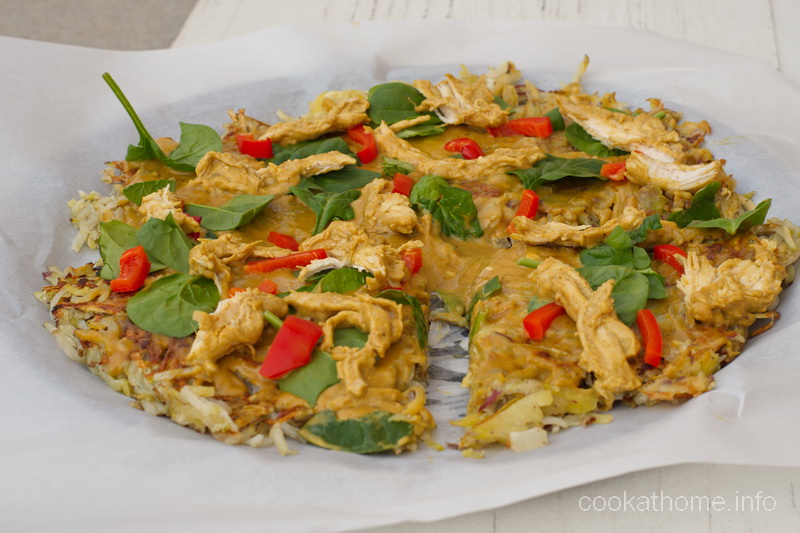 I have to give Grant full credit for this recipe – it was his idea. It came about because I received a goodie pack of products from Crazy Richards Peanut Butter and I wanted to use their awesome products in something slightly different than my normal chocolate and peanut butter combinations. Not that chocolate and peanut butter isn't a good combination (it rocks!) but I wanted to come up with something unusual.
My family loves peanut satay chicken (using this recipe). So much. And we have recently discovered how to make really yummy potato pancakes (recipe here). So Grant suggested we combine the two. Grant helped me with the actual implementation of this recipe – he is the guru of potato pancakes after all! But you can also feel free to use just the topping on a regular pizza crust – it works just as well, it's just not that different and unique as this recipe is.
So give this satay chicken potato pizza a go – you'll be glad you did! Apologies for the poor photo but it's really difficult to get a decent image of this yumminess .. you'll just have to trust me that it's awesome to eat and make it!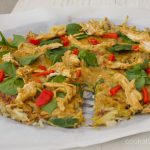 Peanut satay chicken potato pizza
(gluten-free, dairy-free)
Ingredients
For the crust
3

medium potatoes

white or sweet

1

egg

1

tbs

potato flour/starch

1/2

tsp

baking powder

1/2

tsp

salt

1/2

onion

finely chopped
For the sauce
1

can

full-fat coconut milk

13.5 oz/400mL

2

tbs

curry powder

2

tbs

ginger powder

3/4

cups

crunchy peanut butter

2

tbs

raw sugar

3

tbs

tamari sauce
For the toppings
1

chicken breast

200g

1

roasted red pepper

1/2

cup

spinach

coarsely chopped
Instructions
For the crust
Grate the potatoes and squeeze to remove as much moisture as possible.

In a large bowl, beat together egg, potato flour, baking powder and salt.

Mix in potatoes and chopped onion. The mixture will appear relatively dry, but ensure it is as mixed as possible.

Heat oil of choice (I used peanut oil) in a large skillet over medium heat.

Spread the entire mixture across the skillet and allow the bottom to cook. Flip carefully to cook the other side. Set aside until ready to assemble.
For the sauce
Combine all ingredients in a small bowl until well mixed.

Set aside 1/4 cup for use on the base.
For the toppings
Place the chicken in a saucepan of boiling water and poach until cooked through.

Set aside to cool and shred into bite-sized pieces.

Place in the remaining sauce mixture and stir until well coated.

Assemble the pizza by spreading the reserved sauce on the potato base, then placing chicken, pepper and spinach in top.

Bake in a pre-heated 375F oven for 10 minutes.