Red pepper hummus
A really easy and tasty recipe to make hummus at home – healthy and all natural ingredients.
I never realized just how tasty hummus could be, until I watched a few documentaries where hummus was used as a replacement for mayonnaise and other dips that are full of fat and other unhealthy things. And then I looked at a tin of chickpeas (garbanzo beans) and realized just how easy it would be to make hummus. And then I added a few ingredients to make it personalized … and voila! Here's the recipe that I love!
I served this recently to some friends – one said she didn't usually like hummus because of the tartness that often comes with the dip. But she loved this one. And kept eating. It always makes me feel good to see other people enjoying food that I've prepared!
The photo above shows the hummus with some commercial corn chips, but you can also add my homemade tortilla chips with it as well (recipe here) just to wow your friends (or just yourself!).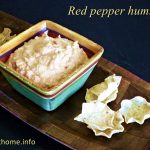 Red pepper hummus
Ingredients
1

tin chickpeas

garbanzo beans

4

tbs

vegetable oil

2

cloves

garlic

1

red bell pepper

1

tsp

smoked paprika

1

tsp

salt
Instructions
Roast the red bell pepper in a moderate oven (350F) for 30-40 minutes, until tender. Set aside to cool. Once cool, chop into small-sized chunks.

Blend chickpeas, oil, garlic and salt in a food processor, adding sufficient water until the texture is as desired.

Add in the red bell pepper in small quantities to ensure the processor is not overloaded and continue processing until desired texture.
Recipe Notes
Add in additional spices as you wish - cayenne pepper, soy sauce, chili powder etc.