Peach muffins
Peach muffins that are gluten and dairy-free  – really soft and moist, and yummy straight from the freezer.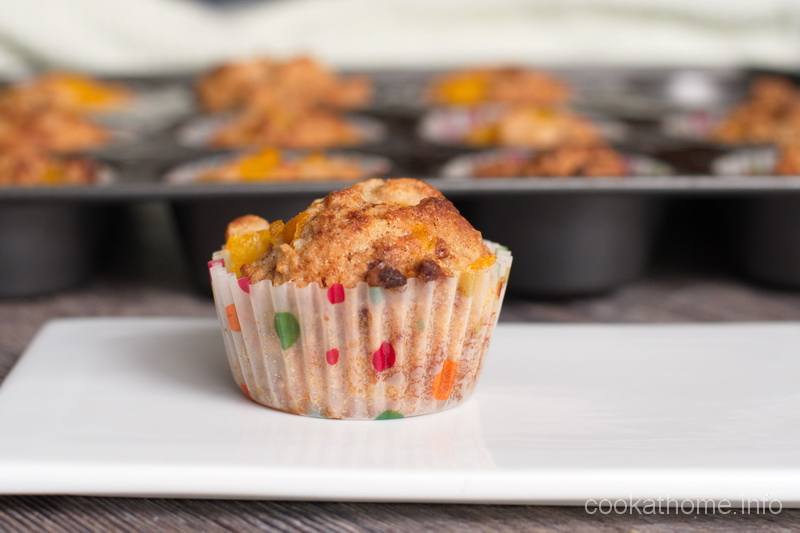 When we lived in Chile, we had peach trees and nectarine trees in our backyard.  We tried eating them by themselves, but was way too much effort since they were only small.  But we didn't want them to be wasted, so we picked all the nectarines from the tree on the weekend and adapted this recipe for peach muffins, and made nectarine muffins.  They are really soft and moist, and very more-ish.  We keep them in the freezer, in an attempt to make them last for a bit longer than a day or so, but we have found that they are almost better when they come out straight from the freezer!
A few weeks later we still had peaches coming off the tree, so I made a batch of peach muffins using this recipe – as my daughter says – 'it's like a peach cobbler, but better!'  So I'm giving you the peach muffin version, but know that you can substitute any fruit you wish – probably stick with the stone fruit as a first option, but if you do try them with other fruit, please let me know in the comments below!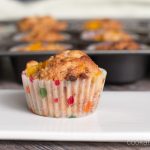 Peach muffins
(Gluten-free, dairy-free)
Ingredients
3

cups

plain gluten-free flour

1

tbs

ground cinnamon

1

tsp

baking soda

1 1/4

cups

vegetable oil

3

eggs

2

cups

sugar

2

cups

peaches

chopped
Instructions
Preheat the oven to 200C/375F. Lightly grease and line the muffin tin.

In a large bowl mix the flour, cinnamon and baking soda together.

In a separate bowl, mix the oil, eggs and sugar.

Stir the oil mixture into the flour mixture just until moist.

Peel, pit and chop fruit and fold into mixture.

Spoon into the prepared muffin cups.

Bake for 25 minutes until a toothpick inserted in the centre of a muffin comes out clean. Cool 10 minutes before turning out onto wire racks to cool completely.
Recipe Notes
To make this gluten free:
Substitute the 3 cups plain flour with 2 cups rice flour, 2/3 cup potato starch, 1/3 tapioca starch, 1 1/2 tsp xanthan gum.