Peach cobbler
This peach cobbler is a great way to use up a whole heap of peaches – with lots of peeled and cut peaches required, but really easy to make.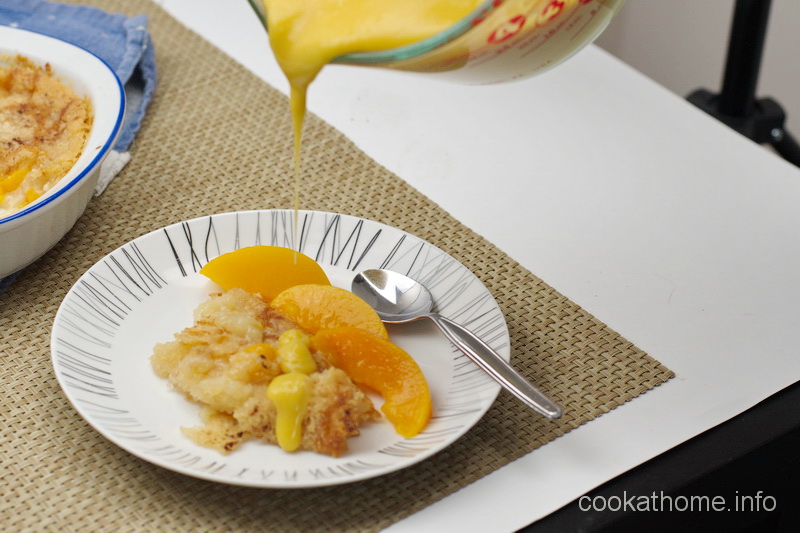 When we lived in Chile, our peach trees produced an amazing amount of yummy peaches.  And because we couldn't just let them go to waste, or to the birds, I decided to try my hand at a peach cobbler.  Grant had been suggesting this for a while – but then we had to do some research to find out just what a 'cobbler' was!  Anyway, I found this recipe at the Food Network website, and adapted it to make it gluten-free.  It was a great way to use up a whole heap of peaches – with 4 cups of peeled and cut peaches required, I owe a great deal to Grant for his patience and perseverance!
And if you want other ideas for using up peaches, check out these peach muffins, or my spinach and peach salad.  Or this divine peaches and cream slice.  Of course, you can always just eat them raw …!
Peach cobbler
(Gluten-free, dairy-free)
Ingredients
For the peaches
4

cups

peaches

peeled, pitted and cubed

1

cup

sugar

1/2

cup

water
For the cake
160

g

butter

or coconut oil

1 1/2

cup

self-raising gluten-free flour

1

cup

sugar

1 1/2

cup

unsweetened almond milk

cinnamon
Instructions
Preheat oven to 180C.

Place the peaches, sugar and water into a saucepan, bring to a boil and simmer for 10 minutes. This will not necessarily thicken, but allow it to cook down a little. Remove from heat.

Place the butter or coconut oil into a 3L baking pan and allow the butter/oil to melt in the oven.

Mix the flour, sugar and milk together slowly to avoid any clumping. Pour this over the melted butter slowly and do NOT stir together. The mixture will look pretty soupy - don't be alarmed!

Carefully spoon the peaches on top of the cake mixture and gently pour the syrup over the top.

Sprinkle the top with cinnamon.

Bake for 30-45 minutes and let sit for about 5-10 minutes before serving.
Recipe Notes
To make this gluten-free:
For the 1 1/2 cups of self-raising flour, substitute 1 cup rice flour, 5 tbs potato starch, 3 tbs tapioca starch, 3/4 tsp xanthan gum and 2 tsp baking powder