Pavlova
This classic Pavlova dessert is always gluten and dairy-free – so easy even kids can make it!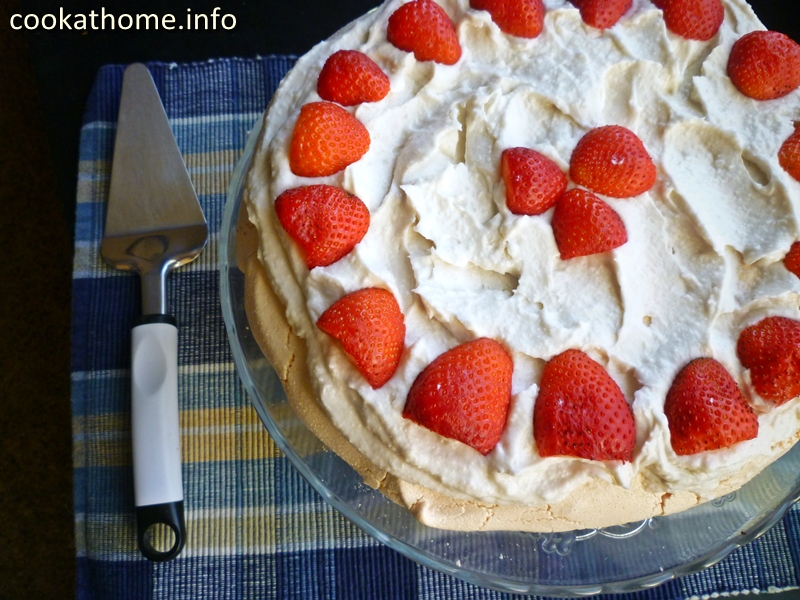 In our house, when someone mentions the word 'pavlova', all eyes turn to Henry. Because, you see, he has been making various types of pavlova since he was in kindergarten (i.e. around 3-4 years old). In Australia, we were able to get, what we called, pavlova 'eggs', where the dry ingredients come pre-prepared and all you need to do is add water to one half of the egg, mix it with the dry ingredients and bake. And voila, Henry is the instant superstar at all class parties where he was asked to bring a dessert.
Now, Henry gets his love of pavlova from his Poppa (Grant's dad), who is the serious Pavlova Guru. Grant remembers him taking so much care and time over each one of his pavlovas growing up, and obviously he's passed that onto us. But, you know I wanted to get in on this amazing dessert as well. And guess what? It really is that easy to make from scratch that a child can make it. I've made it a number of times and every time, it turns out light and fluffy.
Simply egg whites, sugar, vinegar, vanilla and a bit of tapioca starch (or corn starch if you can handle it), and you've got yourself an amazing, naturally gluten and dairy-free, dessert that can be topped and decorated as you wish. Obviously, any cream you use will need to be dairy-free if you're lactose intolerant, but a little hack I've found is using coconut cream with a packet of instant pudding mix – similar but not exactly the same as whipped cream. And top with any or all fruits (or chocolate) you wish!
And if you're wondering what to do with all the egg yolks that you have left over – check out these ideas for ice cream, or cookies!
Now, I know Henry is great in the kitchen, but if he can make this, then so can you! So give it a go and see what you think!
Pavlova
(Gluten-free, dairy-free)
Cook Time
1
hour
15
minutes
Ingredients
4

large egg whites

room temperature

1

cup

castor sugar

or granulated sugar

1

tsp

white vinegar

1/2

tbs

tapioca starch

1/2

tsp

vanilla extract
Instructions
Preheat the oven to 275F (140C) and place the rack in the middle of the oven. Line a baking tray with foil and set aside.

Beat the egg whites with a clean electric mixer in a clean metal bowl until soft peaks form.

Gently sprinkle the sugar into the egg whites, one teaspoon at a time. Do not pour the whole amount in at once and don't stop beating the eggs until all the sugar has been incorporated to form glossy stiff peaks.

Sprinkle the tapioca starch and vinegar on the egg white mixture and fold in gently with a plastic spatula. Add the vanilla and gently fold the mixture again.

Gently spread the meringue in the desired shape on the foil-lined baking tray and ensure the edges are slightly higher than the center.

Bake for 1 hr 15 mins or until it goes a very pale, pinkish egg shell color.

Turn the oven off and leave the door slightly ajar to let the meringue cool completely. Some cracking is normal during this stage.

Remove from the oven and carefully remove from the foil. Decorate with whipped (dairy-free) cream and fruit as desired.